September 25, 2010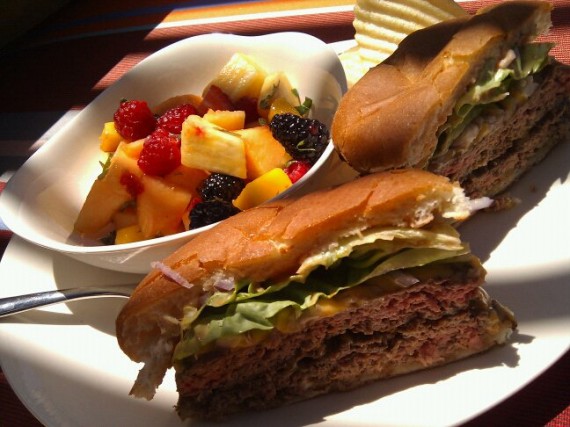 This bit of Indian summer we're experiencing is making me want to have one last hurrah of summery, grilling out sessions (you know, before those fall grilling out sessions that are more like tailgate fair). So I'm going to make some thin burgers, about a 1/4 pound each, perfect for stacking up for a double (or triple) cheese burger. I'm jonesing for a bit of fruit, and a fruit salad is the perfect way to trick myself into thinking this burger meal is healthy! Chips are added for good measure though. Really, who can eat a burger without some form of potato?
Double Cheeseburgers
Serves 4
2 pounds of ground beef (I use 9% because I like my burger medium rare to medium; if you like to cook the *bleep* outta your burger, up the fat percentage)
8 slices of your choice of cheese (American for me, Pepperjack for my husband)
4 white hamburger buns
Burger seasoning:
2 tablespoons kosher salt
1 tablespoon ground black pepper
1/2 tablespoon garlic powder
1/2 tablespoon onion powder
1 teaspoon celery salt
Condiments:
I prefer ketchup, mayo (blended together to a nice pink color), red onion thinly sliced, and a leaf or two of butter lettuce.
My husband likes a bit of dijon with his pepper jack, as well as the lettuce.
Get creative – use whatever you like.
Pat out 8 hamburger patties about a 1/2 inch thick, indented slightly in the center. Rub liberally on both sides with burger seasoning, and grill just short of your desired doneness. Add the cheese slices, and let them get all melty. Toast your buns as well.
Spread a thin layer of your preferred condiments on both the top and bottom bun (this keeps the meaty juices from penetrating the bun). Slide two cheeseburgers onto the bottom bun, top with your preferred veggies (lettuce, tomato, onion, pickles, etc.) and top with the other bun half. Enjoy!