September 13, 2013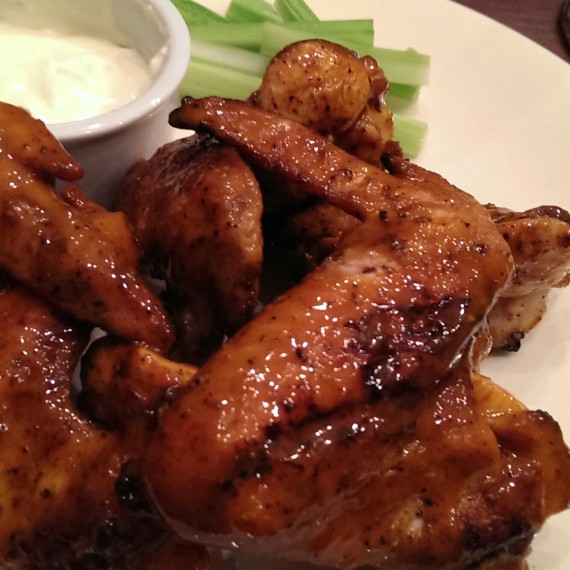 A couple of weeks ago I posted my recipe for the buffalo chicken salad, but then I realized I've never posted the simplest buffalo chicken recipe of all – wings! I've made many different kinds of wings over the years, but I think I discovered my favorite method for making them: simply grilled. No breading. No deep frying. Just a coating of special spices, a bit of time of a hot, smoky charcoal grill, and a toss in a darned good wing sauce.
Grilled buffalo wings
Serves 2
10 full chicken wings, with skin (not separated into wing and drumette)
1 teaspoon salt
1 teaspoon black pepper
1 teaspoon white pepper
1 teaspoon red pepper
1 teaspoon garlic powder
1 teaspoon onion powder
1/4 cup olive oil or vegetable oil
3/4 cup wing sauce – my preference Louisiana Wing Sauce
(Note: You can make wing sauce from scratch by mixing of 1/2 cup melted butter and 1/2 cup hot sauce, adding more hot sauce to the ratio for a hotter sauce. Season with 1/4 teaspoon black pepper and 1/4 teaspoon garlic powder. My preferred hot sauces are Dixie Crystal or Frank's Red Hot to make wing sauce.)
Place chicken wings in a ziploc bag. Mix together the ingredients from salt through to olive oil. Add to the bag and coat well. Let marinate for at least 30 minutes.
Meanwhile, get the charcoal started for the grill. Set up the briquettes to be fairly even over 2/3 of the grill, leaving some area to move wings if there's flare up. Place the wings on the grill and cover. Cook on the first side until the skin crisps up and turns golden brown with black marks. Flip, and continue cooking on the other side until it looks the same, and the chicken is done all the way through. As the wings are done, either move them to the side of the grill with no briquettes, or pull them off and put into a bowl covered with aluminum foil.
Once all wings are in the bowl, add wing sauce, cover the bowl with at least a double layer of aluminum foil, and toss vigorously to thoroughly coat the wings. Take care not to let the wings poke through the aluminum foil and send wing sauce all over you, though!
Enjoy, preferably with blue cheese, celery, a damn good football game, and something carbonated, like an ice cold lager or brut champagne.