May 27, 2012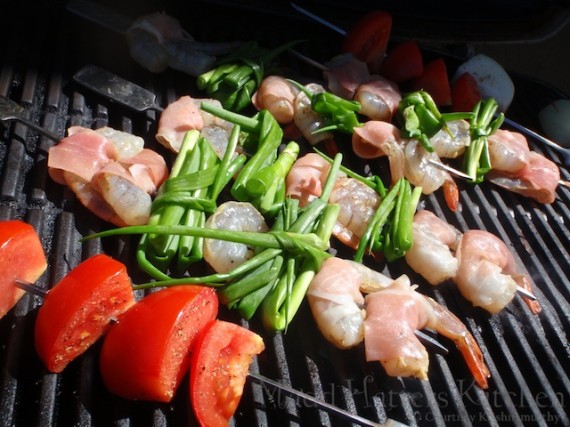 Three-day weekends and sunshine just scream for firing up the grill, getting together with friends, and enjoying all the world has given you. So in that spirit, I thought it would be fun to give you a little inspiration if your plans this weekend involve barbecuing, or grilling out as we call it down South (because barbecue is reserved for almighty smoked pig event!).
Double Cheeseburgers: If you're looking for the standard fare, there's nothing much better than the cheeseburger. Juicy beef, melty American cheese, fresh from the garden lettuce – mmm! Here's my take on the double cheeseburger, with a great, mild seasoning for the meat.
Lamb sliders: If you're looking for an amazing twist on the humble cheeseburger, look no further. This recipe starts with fresh ground lamb, adds some heat and Mediterranean spices, and gets topped with feta, haloumi, and cucumbers for a refreshing crunch!
Grilled Chicken Wings: I'm going to go ahead and say you should get at least 3 pounds of chicken wings per person, because these guys are amazing. There will be nothing left on the bones and your guests will be begging for more (or at least for the recipe).

Bacon-Wrapped Filet: So you want to be fancy-schmancy pants, eh? Nothing simpler, nothing more impressive than a filet, wrapped in bacon, rubbed down in a spice mixture, and grilled for a few minutes tops (keep it mooing!!).
Teriyaki Chicken Bowl: Aloha summer!!! This grilled chicken and pineapple recipe is one of my favorite summer pastimes, and with the tropical kick I've been on lately, I'm thinking it will be making an appearance on my grill very, very soon.
Surf & Turf Kebabs: Orange and ancho chilis flavor this combination of shrimp, steak, onions and bell peppers. Beautiful colors, wonderful flavor, simple and filling!
Shrimp, Proscuitto & Scallion Spiedini: Bring a little Italian flavor to your grill with these yummy skewers of shrimp wrapped in proscuitto. Served with fresh tomatoes and garlic bread, you're in for an amazing meal!
Veggie Pita with Harissa: There's nothing wimpy about this vegetarian sandwich slathered with spicy, hot harissa. Summer's best vegetables, grilled, stuffed into a pita with harissa, spinach, and goat cheese. Yes, please!!