September 15, 2011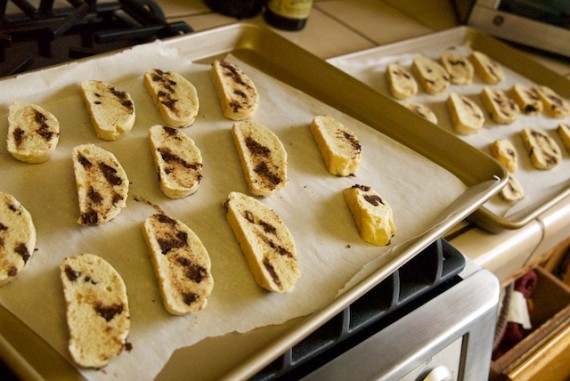 Earlier this week, I told you about one of my old favorites I made over the weekend, the amaretti. The other yummy cookie I made to go with our coffee for the week was a biscotti. Biscotti is one of my favorite morning coffee accompaniments, but I usually buy it at the store. I've seen it made on cooking shows, and after reading through my cookbooks, I found a rather simple recipe for an almond biscotti.
I really like a bit of chocolate in my biscotti, so I tuned down the amount of almonds and adding a bit of dark chocolate chips to the mix. These turned out pretty good, but next time I think I'll mess with the ratio of flour to sugar a bit. These seemed a bit heavy on the flour.
Biscotti
adapted from The Food of Italy
Makes ~30 small biscotti
375 grams (3 cups) all-purpose flour
170 g (3/4 cup) caster sugar
3 eggs
1/2 teaspoon baking powder
1/2 teaspoon vanilla extract
3 ounces blanched, chopped almonds
3 ounces dark chocolate chips
Preheat the oven to 350 degrees and line two baking sheets with parchment. Sieve the flour into a large bowl or food processor, add the sugar, eggs, baking powder, vanilla and a pinch of salt, and mix or process until you have a smooth dough. Transfer to a floured surface and knead in the almonds and chocolate chips.
Divide the dough into two pieces and roll each into a log about 8 inches long. Put on baking trays and press down gently along the top to flatten the logs slightly. Bake for 25 minutes until the dough is gold in color. Take the logs out of the oven and leave to cool slightly while you turn the oven down to 325 degrees.
Cut each log into 1/2 inch thick diagonal slices, place on the baking sheet and return to the oven for 15 minutes until they start to brown and dry to the touch. Store in an airtight container.
Serve these with a bit of coffee or cappuccino in the morning, dunking each bite into the liquid for a few seconds before eating.