May 15, 2018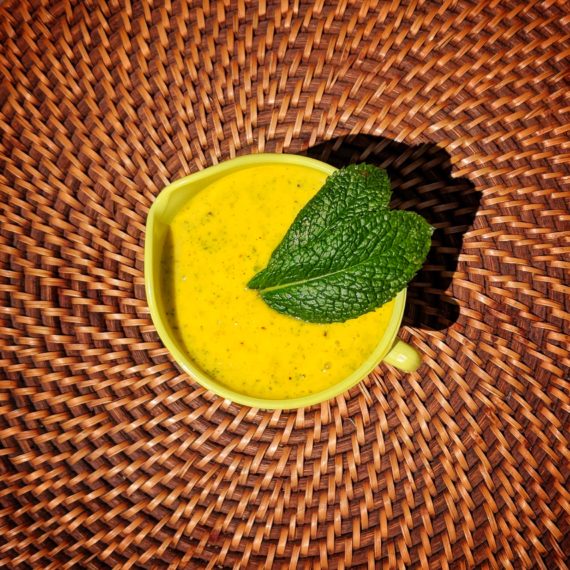 This recipe came about from being freshly back from Costa Rica and craving the flavors of my dinners there. Alas, even though we usually are at the end of the season some phenomenal mangoes this time of year at the grocery, all the mangoes had been there just a little too long, so I skipped on buying any and decided instead to play with some frozen mangoes which I generally have on hand to see what flavors I could come up with. Since I still had some amazing butter lettuce, I decided to make a vinaigrette with mango flavor, adding some fresh mint from my backyard. The result was a dressing so good I could have simply drank it, but instead I made a butter lettuce salad one day, then the next a wild rice pilaf with chopped veggies and chicken sausage which I stuffed into butter lettuce wraps and dressed with the vinaigrette. Needless to say, those wraps went quick, as did the rest of the dressing!
If you have fresh mangoes, by all means use them! Since I was using frozen mangoes, I set them aside in the blender while I washed my produce for the salad, then blended everything up for a cool yet spicy dressing. Gotta love the addition of hot sauce!
Mango Vinaigrette
Makes 3/4 cup
1/2 cup cubed mango (if frozen let thaw a bit)
1/4 cup olive oil
3 tablespoons white wine vinegar
1 small stalk of mint leaves (or 1/2 large), more or less to taste
1/4 teaspoon ground nutmeg
Salt & Fresh ground pepper
Dash habanero hot sauce, optional
Add all ingredients to a blender or food processor. Blend, taste and adjust seasoning, then serve.