December 6, 2010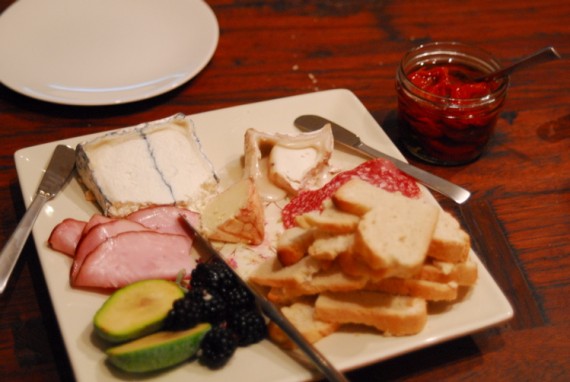 Tonight for dinner, instead of ending with a sweet note, I decided to put together a cheese plate of local cheeses to round out our meal. At the cheese counter, I picked up a favorite, the Humboldt Fog from Cypress Grove. As I was perusing the other selections, I noticed a new offering from Cypress Grove – Truffle Tremor. I added that to my basket, and randomly selected a Cowgirl Creamery to round out my offerings (because I always like an odd number of cheeses). The Cowgirl was Red Hawk, and man, was it stinky! Very tasty, but so stinky you almost needed to hold your nose around this cheese.
One of my favorite grocery stores in the area is Cosentino's, and when you walk in the front door, you'll be greeted by a special produce area that has random fruit offerings that you can't always find. Today they had guava, which I've never had in fruit form before. So I picked some up and added blackberries and dried apricots to the basket.
The guava was amazing. It tasted nothing like the juice (though I believe it was a different variety of guava). I have now dubbed it the Sweet Tart fruit, because not only is that what it smells like, but it tastes exactly like one too, without the chalky flavor.
The winner of this spread, however, was the Truffle Tremor. The creamy outer layer of goat cheese gives an even spread across a cracker or bread slice. The truffle gives a subtle, earthy flavor to the cheese. Even though this is a goat cheese, there's no tangy flavor that you generally get with a chevre. It was so mild, smooth, and creamy that this slice didn't last long on our plate.
To round out the meal, I had the tomatoes I put away this summer, with basil, garlic, roasted red pepper, and oregano. I will be hard pressed next year to not grow only roma tomatoes and put them all up in this manner. The jar will be made quick work of, I'm certain.