October 18, 2010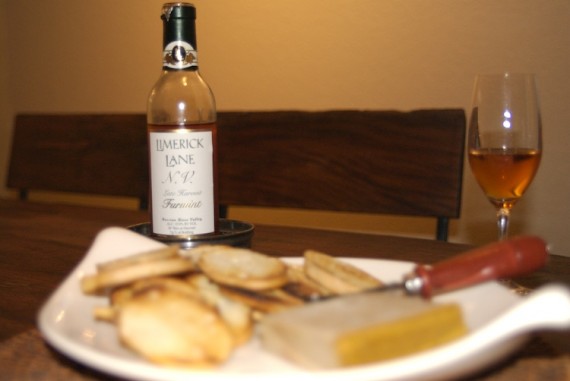 I've waxed poetic about Limerick Lane's wines many a time on this blog already, but they really just put out such wonderful wines. This bottle of furmint is no exception, though I was a little puzzled as to what I should do with it once I received it. Such an odd sounding wine — "fur… mint" I kept saying to myself. It came in a small bottle, so it must be sweet, I thought. So I decided to do a little investigation before opening.
I consulted my What to Drink book first, which has a handy reverse lookup (basically, what to eat). Furmint wasn't there! This book hasn't failed me until now. So I decided to go with the recommendations on Limerick Lane's site – not too sweet desserts and foie gras. We'd make a meal of appetizers and dessert, which we should really do more often, because it was the perfect amount of food.
For the foie gras, that was easy. One Sunday while at the farmer's market, I stopped by the Fabrique Delices booth to see what they had. I found a duck foie gras mousse, which I felt would do nicely. That with some crackers might be the easiest appetizer a girl could make, so I felt I could put a little more into my dessert.
After a bit of thought, I decided some sort of apple tart would work well. Sometimes I have fried apples for dinner or breakfast, so it would almost be like a main course, instead of dessert (yeah, you just keep telling yourself that Courtney!). I decided to consult Martha, the woman I trust most for a tart recipe. I stumbled upon a rustic apple tart — perfect!! This was shaping up to be quite the informal meal, so rustic suited me perfectly. Needless to say, these were a bit more involved than the appetizer portion, but the work wasn't too bad, and the reward heavenly! Not only did I have enough for dinner, but I had some left over for breakfast and sharing the next day.
So after all of this preparation, how was the wine? Wonderful! It wasn't too sweet, as I had originally anticipated. It balanced well with both the foie gras, tempering the richness, as well as the apples, showcasing not only their flavor, but bringing out the nuttiness and honey flavors of the wine as well. I'm so sad that I only enjoyed one bottle of this wine, as it is now sold out through Limerick Lane. They've done a great job of introducing me to a new varietal, though, so I'll be on the lookout for a bottle of furmint in our local BevMo, ready to have a few more informal meals this fall.