November 20, 2010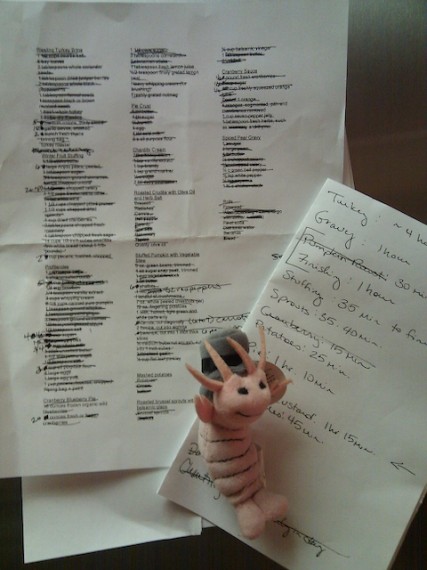 Since I decided that I would be having a Riesling-Brined Turkey for Thanksgiving, the rest of the menu had to fall into place around the centerpiece turkey. I like to do a blend of tried-and-true recipes with new recipes I've never had before. I decided to make a recipe from Paul Prudhomme's Louisiana Kitchen, Pear Gravy. As I perused the Epicurious site, I decided try the Winter Fruit stuffing, and my menu began to take shape by including fruits in many of the items. I went with a simple mashed potato to temper the sweetness, and a roasted brussel sprout recipe that included a balsamic reduction. Since one of my vegetarian friends will be joining us, I'll make a Stuffed Pumpkin with Vegetable Stew for a main course as well.
I'll need something to start the meal and a sweet note to end on, so Roasted Crudite with Herbed Salt and Olive Oil will hold over the guests that come direct from the airport until I get everything on the table. For dessert, I'll offer a fruit pie, Wild Blueberry and Cranberry, as well as a pumpkin dessert – Profiteroles with Pumpkin Custard and Maple Bourbon Caramel. Both will be served with Paul Prudhomme's Chantilly Cream.
While this is a ton of food, I try to simplify my shopping and cooking by making a list. I start by listing every ingredient (every last ingredient) on a single sheet of paper. Then I go through and compile ingredients across recipes, such as butter, cream, eggs, sugar, until I know how much of each I will need for the dinner. Then I begin checking my pantry and refrigerator to see what I have that can be crossed off the list. Spices, even salt, is listed so I can ensure I have everything I need on Thursday morning when I start cooking.
Wednesday night I begin reading through all of the recipes yet again. I'll notate total cooking time, and then I'll plan the order of cooking each dish (or portions of). I'll take into consideration different oven temperatures while doing so, as I know my turkey will take up the bulk of the oven most of the day.
And with all of the planning comes a stress-free Thanksgiving. It will be busy, but I'll know what needs to be done each step of the way. Come 7:30 we'll be sitting down for a wonderful meal – if all goes according to plan!