March 17, 2011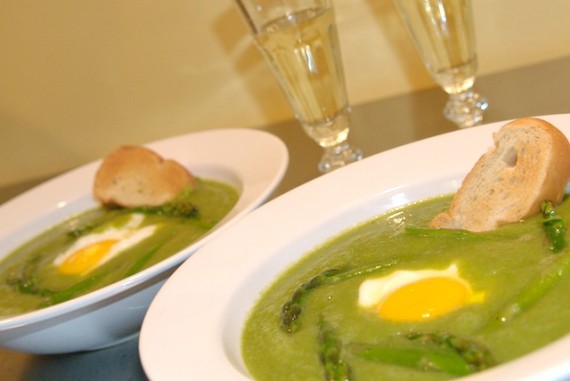 While it's not traditional Irish fare, I'm so looking forward to asparagus to be back in season so I can create this super-simple, beautifully green soup, so it seemed apropos for this spring day. For this recipe you won't need vegetable stock, nor will you need to do a lot of chopping. Simply boil the asparagus, onion, and garlic, puree, and top with fried egg, baguette, and a few garnishes of asparagus. Serve with J's sparkling wine, and you've got a match made in heaven. Springy, green flavors all over your palate.
Drooling yet? Then I know you'll want the recipe…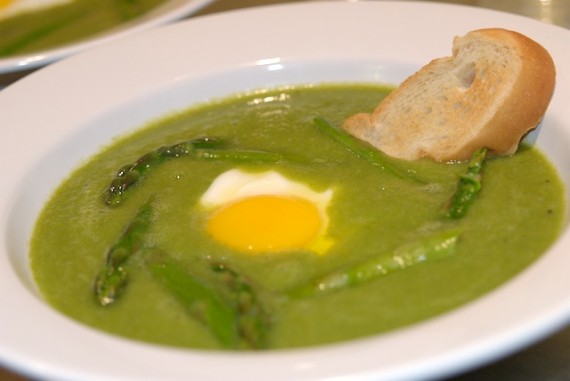 Asparagus Soup with Fried Egg
from La Cucina Italiana
Serves 4
1 mini baguette
2 1/2 pounds asparagus, trimmed
1/2 cup finely chopped onion
1 garlic clove, smashed and peeled
Fine sea salt
2 tablespoons extra-virgin olive oil plus more for drizzling
Freshly ground white peppercorns
4 large eggs
Cut 4 (1/3-inch-thick) slices from baguette and lightly toast. Save remaining baguette for another use.
Cut all but 8 asparagus into 1-inch lengths. In a medium saucepan bring 3 1/3 cups water, onion, garlic and pinch salt to a boil; add chopped asparagus and cook until tender, about 8 minutes. In batches, carefully purée soup until creamy and smooth. Return soup to pot, season with your preferred amount of white pepper, and cover to keep warm.
Cut remaining asparagus in half, lengthwise, then cut in half crosswise; place in a large skillet. Add water to come halfway up sides of pan, 1 tablespoon oil and pinch salt and pepper. Simmer until tender, about 3 minutes, then drain.
In a large nonstick skillet, fry eggs in remaining tablespoon oil; sprinkle with salt.
Gently warm soup, stirring, then ladle into bowls. Top with asparagus, fried eggs and toasts. Drizzle with oil and sprinkle with pepper. Serve hot.
Gluten free alternative: Simply omit the bread. While it is good, this soup is good enough to stand on it's own without the bread.