September 22, 2011
It's been a while since we've had a rabbit recipe on here, hasn't it? While many of my rabbit recipes have been heavier meals, this one is versatile. You can make it a bit heavier, or a bit on the lighter side. This evening I made it lighter, on accident, but decided it was the preferred way to serve this dish during the summer months.
I was first attracted to this recipe because of its use of the liver in the sauce. It's not that I'm gaga for livers, I just like the idea of using all the bits that might otherwise find their way to the trash. The other reason I was attracted to this recipe was the pasta; it looked super simple to make. When doughs are involved, even pasta dough, it's really 50/50 as to whether or not it will turn out right for me. So let's take a look at this super-simple recipe.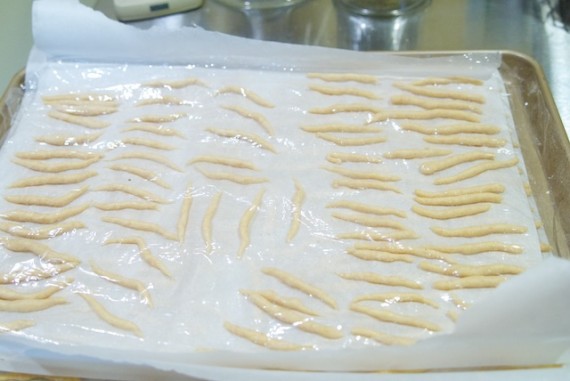 First up, you make the trofie. After pulling together a quick dough and letting it rest, you portion the dough and roll out pieces of it between your hands, making long, thin ropes. It's just like playing with play-do! I've learned to lay my pasta out on sheets of parchment or wax paper to keep it all from becoming one large clump, and that helped here.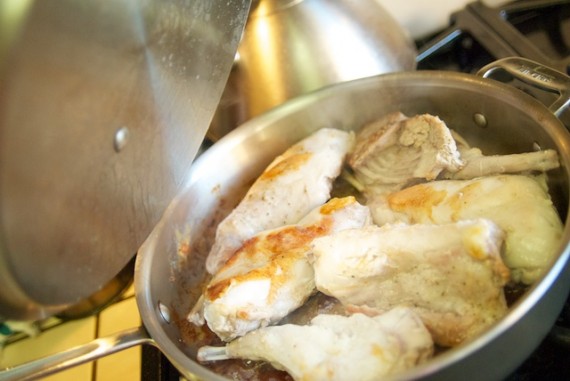 Then onto the rabbit. Step 1: brown the rabbit. I always have such a hard time not pulling bits of meat off and eating them after I have achieved that nice, brown crust on the outside of the meat.
You'll add the vegetables after the rabbit has browned and begin the sauce. Toward the end, pull the rabbit from the pan, add the liquids, and while they're boiling away and simmering down, shred the rabbit from the bone and stir it back into the sauce.
Finally, it's time to bring it all together. A quick cooking of the pasta and stir it into the sauce, and you're done!
Now for the lightened-up version: the first time I made this, I forgot to add the ricotta cheese at the end. A travesty, I thought, as I can eat fresh ricotta by the spoonful. But I didn't miss it, and when I had it with the ricotta, while I liked it, I also liked the simplicity of the recipe without it. So to each your own. I would suggest for a nice summer evening leaving the ricotta at the store.
Trofie with Shredded Rabbit
from La Cucina Italiana
Serves 4 to 6
Trofie
1 3/4 cups unbleached "00" flour (see note) or unbleached all-purpose flour
1/4 cup plus 2 tablespoons spelt (farro) flour
1/4 cup plus 2 tablespoons fine corn flour
1/2 cup unbleached all-purpose flour
1 1/2 teaspoons fine sea salt
3/4 cup water
1 large egg
Rabbit
1 (3-pound) rabbit cut into 8 pieces, liver reserved
1/3 cup dry white wine
2 tablespoons unsalted butter
1/2 cup finely chopped onion
1/2 cup finely chopped carrot
1/2 cup finely chopped celery
1 garlic clove, peeled
3/4 cup water
1 tablespoon finely chopped flat-leaf parsley
Fine sea salt
Freshly ground black pepper
3/4 cup fresh ricotta cheese (5 1/2 ounces; optional)
For the trofie: In a large bowl, whisk together "00" flour, spelt flour, corn flour, all-purpose flour and salt. Mound flour mixture and form a well in the center. Add water and egg to the well. Using a fork, gently break up yolk and slowly incorporate flour from inside rim of well. Continue until liquid is absorbed, then knead in bowl until dough forms a complete mass. Transfer to a lightly floured work surface and knead for 3 minutes more. Wrap dough tightly in plastic wrap and let rest 30 minutes.
Line a baking sheet with parchment paper.
Divide pasta dough into 8 pieces. Cover 7 pieces with plastic wrap. On a clean surface, using your hands, form 1 piece of dough into a 1/2-inch-thick rope. Cut rope crosswise into 1/4-inch pieces. Roll 1 piece between your hands to form a thin rope with tapered ends; transfer to prepared baking sheet. Repeat with remaining pieces and dough.
For the rabbit: Finely chop rabbit liver; transfer to a shallow bowl and add wine. Using the tines of a fork, gently mash together liver and wine.
In a large skillet, melt butter over medium heat. Add rabbit pieces and cook, covered, turning once halfway through, 20 minutes. Add onion, carrot, celery, garlic and 3/4 cup water. Reduce heat to low and continue to cook, covered, until rabbit is tender, about 20 minutes more.
Transfer rabbit pieces to a large plate. Bring liquid in pan to a simmer and cook until reduced by half, about 10 minutes; remove and discard garlic. Stir in liver mixture and cook 1 minute more; remove pan from heat. Pull meat from bones and coarsely shred. Add shredded meat back to sauce; stir in parsley, 1/4 teaspoon salt and pinch pepper.
Bring a large pot of salted water to a boil. Add pasta and cook until al dente, about 2 1/2 minutes. Reserving 1/4 cup pasta cooking liquid, drain pasta, then return to pot. Add pasta cooking liquid and sauce; toss to combine. Divide among serving bowls, top with cheese and serve immediately.
Note: "00" flour and spelt (farro) flour can be purchased at Italian markets, specialty stores, and online, or by mail order from Teitel Brothers; (800) 850-7055. In the South Bay, Lunardi's carries the 00 flour, and Whole Foods carries the spelt.