October 17, 2013
One of my favorite quick go-to pastas has been a beef and arugula pasta with a dijon vinaigrette dressing that I posted a few years back. The first time I made this pasta, I remember my husband saying, "This would be really good with portobellos!". I was so sure it would that, at the time, I wrote the recipe up with that suggestion for vegetarian-izing (and, incidentally, veganizing) the recipe. A week ago, I had some leftover arugula, so I decided to give this version a go, and what do you know, it was a hit! Still as quick and easy as the original, and still as flavorful.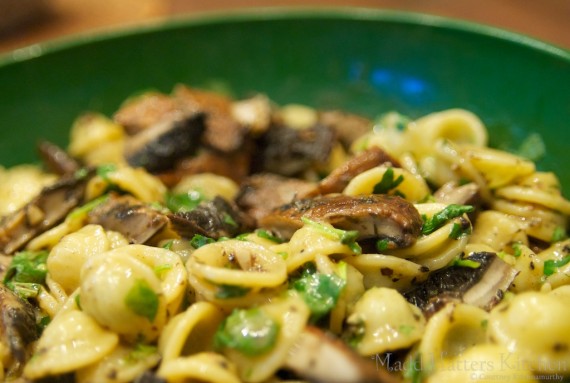 Orecchiette with Portobellos and Arugula
recipe adapted from Penne with Beef and Arugula
Serves 4
3 to 4 portobello mushrooms
1 teaspoon herbs de Provence
1 garlic clove, minced
1/2 cup extra-virgin olive oil, plus 3 tablespoons
1 pound orecchiette
1/4 cup balsamic vinegar
2 tablespoons Dijon mustard
1/2 teaspoon salt, plus more for mushrooms and pasta water
1/2 teaspoon freshly ground black pepper, plus more for mushrooms
1/4 cup chopped fresh basil leaves
1/4 cup chopped fresh parsley leaves
2 cups chopped arugula
Bring water to a boil for the pasta.
Coat the mushrooms with salt and freshly ground black pepper, herbs de Provence, and minced garlic, and 3 tablespoons of olive oil and let sit for 10 minutes. Heat a skillet over medium heat. Cook mushrooms about 4 to 5 minutes per side, flattening with a grill press if you have one. Remove the mushrooms from the pan and thinly slice. Set aside.
When the water begins to boil, salt the water, and add the pasta and cook until al dente, following package directions. Drain pasta, reserving 1/4 cup of pasta water.
In a small bowl, whisk together the balsamic vinegar, Dijon mustard, 1/2 teaspoon salt, 1/2 teaspoon pepper, and 1/2 cup olive oil. Place the arugula, herbs, and mushrooms in a large bowl, and add the pasta. Toss the pasta with the dressing and the reserved pasta water if needed (you'll know if the pasta doesn't look creamy and smooth with dressing to add a little bit of water until you reach that consistency). Season with salt and freshly ground black pepper, as needed. Serve warm or room temperature.