June 5, 2011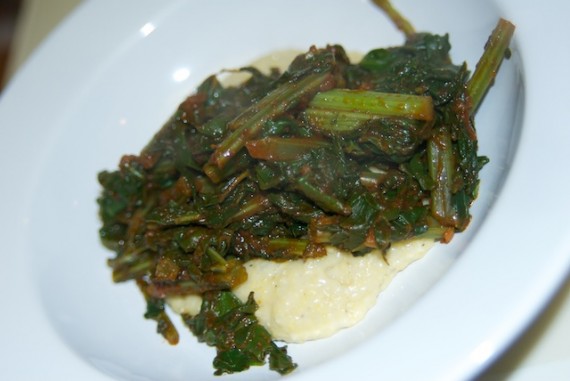 My first crop of kale finally came in (from the Red Russian plant) and while I had anticipated making something summery, like the Kale and Ricotta Salata Salad, it's been so cool and rainy here that I decided to instead do a favorite that I never got around to this past winter (has winter really passed given that it's been 60 and rainy?). I stumbled upon this recipe for Braised Lacitano Kale with Tomato and Anchovy Soffritto in the A16 cookbook, and it was the first way I ever made kale. I fell in love and didn't branch out trying other recipes for quite a while.
This is the perfect meal for a chilly night. It feels somewhat healthy, but it's hearty at the same time and will be sure to fill you up.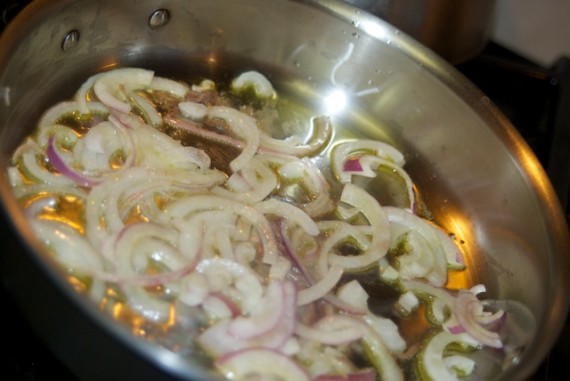 You'll start by soaking four salt-packed anchovies in water to remove some of the salt. While they're soaking, slice 1/2 red onion into thin slices. Start about 1/3 cup olive oil in a large saute pan over medium-low heat, then turn your attention back to the anchovies. Remove the silver skin, bones, and tail under running water. When the oil is heated, add the onions and the anchovies, stirring occasionally, until the onions soften (about 3 minutes). For a vegetarian or vegan version, use capers packed in salt instead of anchovies, about 2 teaspoons. Rinse the excess salt, and mash them down as they cook.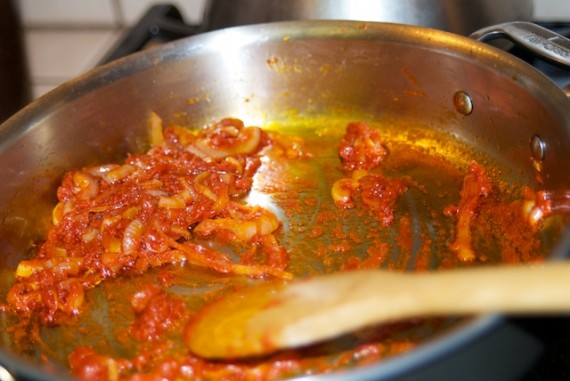 Once the onions have softened, add 1/2 cup of tomato paste and turn up the heat to medium. Cook the tomato paste, stirring frequently, for 7 or 8 minutes, until your paste begins to turn a rust color, like this: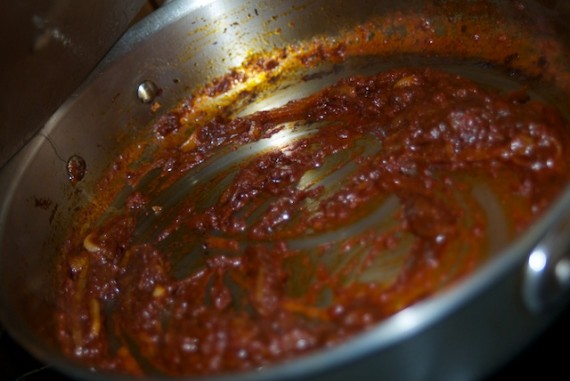 At this point, pour about 2/3 cup of water into the pan and deglaze. Cover the pan and adjust the heat to low, simmering the mixture for about 30 minutes. Every 10 minutes stir the mixture, and if it starts browning or drying out, add another splash of water.
Now we'll turn our attention to the kale. Bring a large pot of water to a boil.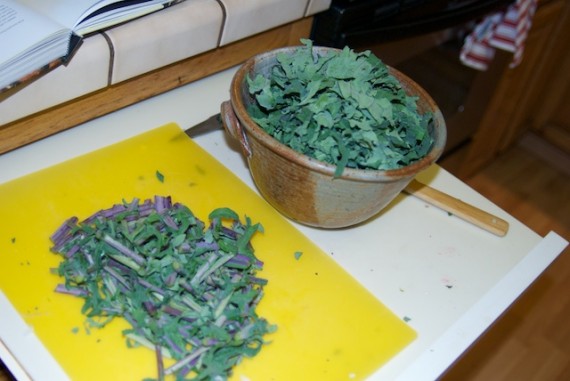 Look at all this kale! This is actually half a recipe. You should rinse the kale, and remove the stems (but keep them, you'll use them too). Cut the leaves into large strips, about 1/2 inch wide.
Once the water begins boiling, add a bit of salt, and add the kale stems. After 4 minutes add the kale leaves and blanch for another 8 minutes (if you're pot is too small, blanch the stems for 12, remove, and then blanch the leaves for 8 minutes). When they're done, drain and rinse with cool water to stop the cooking.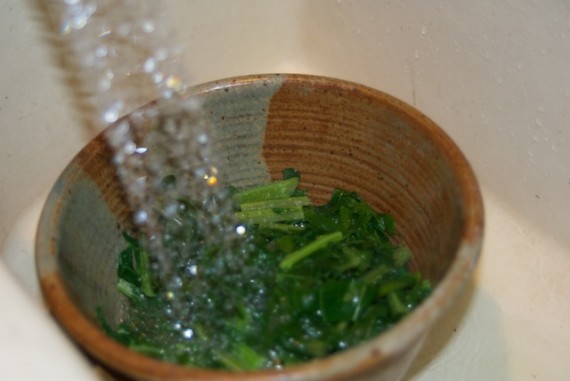 Drain the kale on a baking sheet lined with paper towels. By this time, your soffritto should be about through the 30 minutes of cooking. It will look something like this.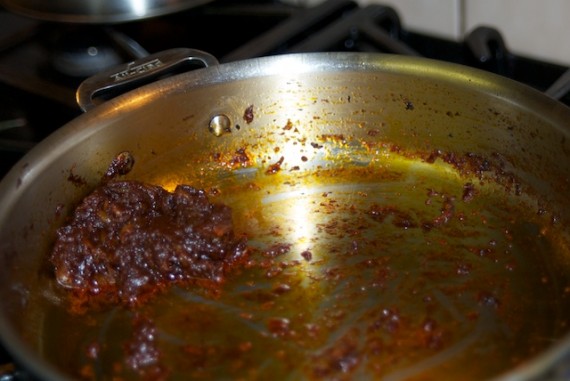 Pull it off the burner and set aside while you make the polenta.
To make the polenta, I bring 4 cups of vegetable stock to a boil, then add 1 cup of polenta, salt and pepper to taste, and about 2 tablespoons of butter. As the polenta starts bubbling, turn the heat down to about medium, and whisk often. The polenta will need to cook for about 20 to 25 minutes. At the end I stir in about 1/4 cup grated pecorino romano and adjust the seasoning if needed. For a vegan version of this meal, I would recommend using a flavored olive oil instead of the butter and cheese, such as garlic or spicy red pepper.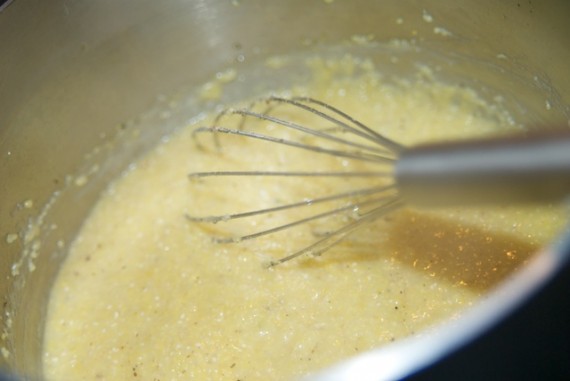 It's time to finish the kale. While the recipe says to heat additional olive oil (1/4 cup) in a clean pan over medium heat, I usually use the pan the soffritto is in and bring it back to a medium to medium-high heat (there's plenty of olive oil already in there). Add the kale and cook for about 5 minutes, until it is tender and has combined with the soffritto.
Place a heaping helping of polenta in a bowl and top with a heaping helping of kale. Add a glass of red wine, Chianti would be perfect, and a nice fire, and you're set for beating the chilly evening into submission.