September 4, 2010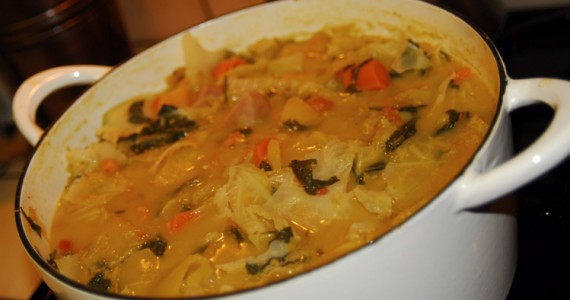 A while back, I mentioned I would give you some ideas of what to do with all of that vegetable stock you made from kitchen scraps. One idea that is perfect for this time of year is what I have dubbed Caribbean soup. Actually, the recipe comes from a cookbook I purchased a while back called Morgan Freeman & Friends | Caribbean Cooking for a Cause. The recipe is from Chef Christopher Walker, and it is so amazingly good and hearty that I never would have thought about it being vegan, but it is! And it's perfect for this time of year, because as football comes on I yearn for heavier fare, but it's still so warm that I don't want chili just yet. So a spicy Caribbean soup fills this change of seasons just perfectly.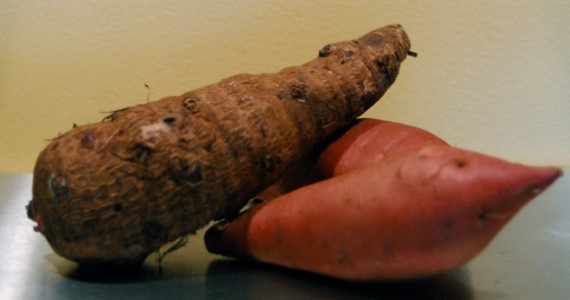 This recipe calls for both yams and sweet potatoes. Above, you can see that the yam (left) is much hairier and not at all like the lighter colored sweet potatoes you'll often find in your grocery store. Below, you'll noticed the yams are very white, with a bit of purple running through them. They are starchy fellows, with not too much flavor and generally grow much larger than sweet potatoes. Yams grow in tropical climates and aren't that easy to find in the US. If you live in the bay area, there's an African grocery in Campbell, on Bascom near the Hamilton intersection, where you can procure a yam or two for this recipe (they also carry great looking okra and plantains). If you're not up for a special trip, or live somewhere else, I would recommend substituting a potato and sweet potato for the yam.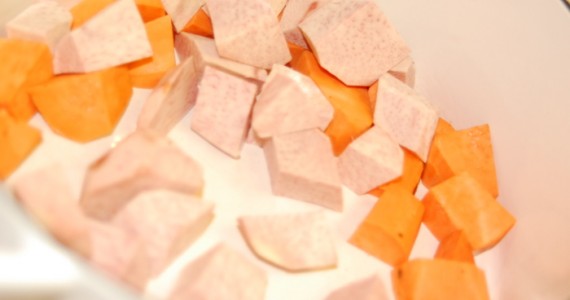 This recipe calls for a ton of other great veggies, such as pumpkin or squash, callaloo, chayote, and the all important peppers!! among other veggies.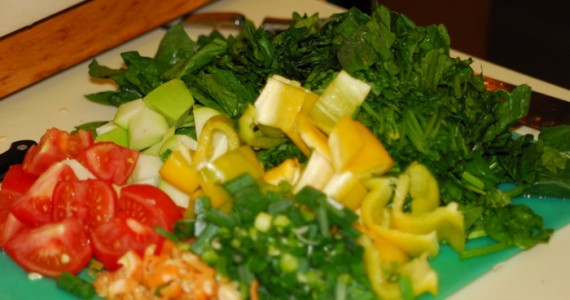 Spinach, yellow peppers, chayote, tomatoes, green onions, and habanero
It also calls for quite a bit of shredded cabbage, though not nearly enough to use the whole head. I'll be saving this guy for upcoming brats and knockwurst!
So have I convinced you that you need to make this recipe yet? Great! Here's the recipe, from Morgan Freeman & Friends | Caribbean Cooking for a Cause:
Chris's Ital Soup
Villa Monzon, Chef Christopher Walker

1 lb. yams, cut into 2″ pieces (or substitute a potato and extra sweet potato)
1/2 lb. sweet potatoes
1 can coconut milk
3 cups vegetable broth
1 lb. fresh pumpkin or butternut squash, peeled and cut into 2 inch pieces
1/2 lb. carrots, peeled and sliced
1 lb. fresh callaloo (I substitute spinach)
1 chayote squash (oftentimes referred to as mirliton in the South)
1 green pepper (I prefer yellow)
2 medium-sized tomatoes
2 cloves of garlic
3 spring onions or scallions
5-6 cups shredded cabbage
1 hot pepper, minced (I like it hot, so I use two habaneros – be careful when mincing them!)
Freshly ground black pepper and salt

Place the yams and sweet potatoes in a stockpot with the coconut milk and broth.

Add the pumpkin or squash and the carrots.

Bring to a boil and simmer for 10 minutes.

While the root vegetables simmer, carefully wash the callaloo, trimming away any thick stems. Chop and set aside.

To peel the chayote squash, cut it lengthwise into quarters and remove the heart. Dice the remaining squash, green pepper, tomatoes, garlic, and spring onions, and add with the shredded cabbage and hot pepper to the stockpot.

Simmer for 20 minutes more until hte vegetables are tender. Season with plenty of freshly ground black pepper and salt if desired. Puree the vegetables for a richer soup.
If you're not going to puree the soup, I would recommend maybe cutting the vegetables into slightly smaller than 2-inch pieces. This usually makes such a large batch of soup that I will eat half, un-pureed, and I will puree half and freeze, saving it for a little later in the winter, when I need a jolt to my usual repertoire of beefy, meaty dishes. Both ways are absolutely delicious!