July 14, 2011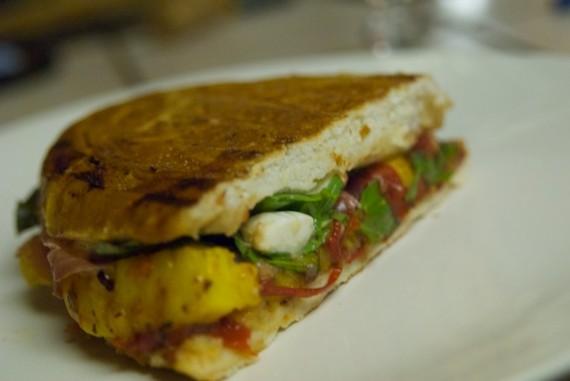 Yesterday I picked up my CSA fruits and veggies, and among other things, there were peaches, a variety of tomatoes, the cutest little red onions, and basil in my box. Last week I remember seeing a panini somewhere that used peaches (not sure what else), which inspired me to make my own peach panini.
One of my favorite Italian restaurants around here has a peach, tomato, and red onion salad on their menu that I love. I know it may sound weird to some, but think of peach salsa – similar ingredients and oh so savory. So I popped by the store to pick up a loaf of French country bread (soft and larger than a baguette) and some fresh mozzarella.
The result was even better than I expected. Savory with a kick of sweet, and so many flavors going on. I'll definitely be making this a few more times while peaches are still in season this year.
Courtney's Peach Tomato Panini
Serves 2
2 peaches, peeled and sliced into 1/8s
2 roma tomatoes, peeled and sliced into ~1/4 inch slices
1 small red onion (this was very small, the size of a shallot – if you're buying at the grocery, I would say maybe even 1/2 to 1/4 of a smaller red onion), sliced
Mozzarella – 3 to 5 medallions
Prosciutto – 1 to 2 slices
Handful of basil, torn into pieces
1/2 loaf French country bread
Olive oil and salt
Heat a grill pan to medium heat. Toss the peaches, tomatoes, and onion with a drizzle of olive oil and salt. Grill quickly – 1 minute or so on each side – just to soften and get a bit of char on the fruits. Remove from heat and wipe down the grill pan.
Slice the country loaf in half and remove some of the bread by tearing out the center of one side. Pile the peaches, onions, and tomatoes into the loaf. Top with pieces of prosciutto, mozzarella, and torn basil.
Heat grill pan to medium-high, and spritz with olive oil. Place the sandwich in the pan, and press with a grill press. Grill on both sides until golden – about 2 minutes or so each side.
Remove from grill pan, slice sandwich in half, and enjoy!
Vegetarian alternative: Simply remove the prosciutto. There's so many good flavors happening that you'll still love the combination!