September 22, 2010
If you want a chili that's full of chili flavor, then look no further. With some chipotle, chili powders, dried chili soaked in water, and green chili, your taste buds are sure to be dancing with flavor.
This recipe combines some of my favorite ingredients to make a good chili. A bit of beer, water that has been flavored with dried chili, and cocoa powder. Trust me on the last one — it gives good color and a tad bit of bitter flavor.
This dish is quick on prep time, because you only have an onion and garlic to chop before getting the cooking started. The chilis can be chopped while cooking, and after everything is combined (which happens within 10 minutes), you just let it simmer with the occasional stir until ready. Have I convinced you that you need the recipe?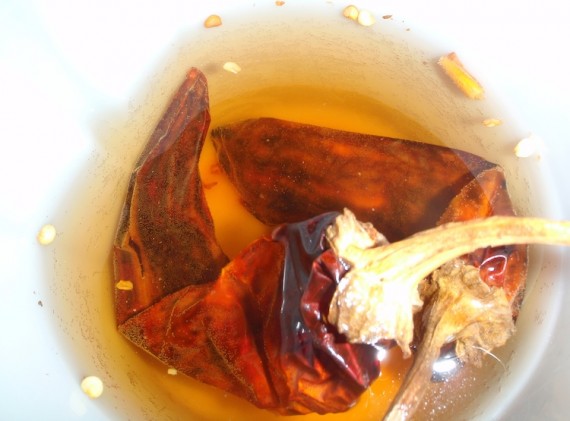 Courtney's Vegetarian Chili
Serves 4
1/2 tablespoon vegetable oil
1 onion, chopped
2 cloves of garlic, minced
2 cans pinto beans
1 can diced tomatoes with green chili
1 can hominy
2 tablespoons of chili powder (this time I used New Mexico and California chile powders)
1 tablespoon chopped chipotle in adobo (or more… I probably erred on the side of 2 tablespoons)
2 teaspoons ground cumin
2 teaspoons Mexican oregano
3/4 teaspoon cocoa powder
2 dried chili soaked in 2 cups of hot water for 20 minutes
1 cup beer
Your choice of garnishes: cheese, diced onions or scallions, diced jalapeno, hot sauce, lime wedges, tortilla chips
Heat oil over medium heat in a heavy saucepan. Add onions and cook, stirring, until soft, around 5 minutes. Add garlic and cook for another 1 to 2 minutes.
Next, add everything from the beans through the cocoa powder and stir to combine. Remove the dried chili from the water, chop off the tops, and remove the seeds. Chop the pepper and add to your saucepan. Add the water the chili were soaking in, as well as the beer, and turn up the heat to medium-high, bringing the chili to a boil.
Let the chili boil for 20 – 25 minutes, until the liquid has reduced and flavors have combined. Serve in a bowl with garnishes.
I like to serve mine with tortilla chips on the side. If you get a little much spice going on, you can snack on the chips for a bit before going back to the chili.