January 12, 2011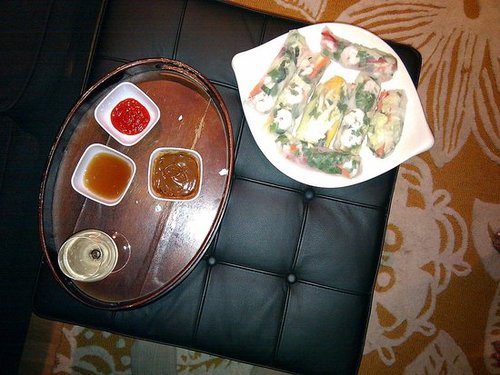 My husband and I love to do dinner and a movie nights. We'll sometimes settle on the movie first, sometimes the food first, and then we pick the other to match. Think Bollywood movies and an Indian feast, or the Godfather with spaghetti and meatballs. The other night, we decided to watch Rashoman, and I wanted something easy to nosh on so we could plop on the couch the entire time and graze on our food.
A while back I picked up some rice paper, and I had never gotten around to making spring rolls with them. I'll admit, I was a little intimidated because they seemed like they'd be a pain to work with. However, I decided tonight would be the night I attempted to make spring (or summer, as some refer to them) rolls, and I started planning what to stuff them with.
I knew I wanted to use red bell peppers, because I like the crunch and the sweetness they give a spring roll. However, when I stumbled upon this Mango Shrimp version on Epicurious, I knew I would have to make it as well. My husband loves mango, and this would bring a good end to his day. So I made both and served with a dry riesling, and our movie night was a success! The rice paper was really easy to work with; a quick soak in some water and the rest was as easy as rolling up a burrito! As for dinner, my favorite roll was the red pepper, his favorite were the mango, and we were hard-pressed to figure out which dipping sauce was best – we really loved having them all!
And Rashoman – amazing!
Mango Shrimp Spring Rolls
Adapted from Epicurious.com
For dipping sauce
3 tablespoons Asian fish sauce
3 tablespoons fresh lime juice
2 tablespoons water
2 1/2 teaspoons packed brown sugar
For rolls
12 large shrimp in shell (21 to 25 per pound), peeled
3 ounces vermicelli rice-stick noodles
3 tablespoons rice vinegar
2 tablespoons sugar
1/2 teaspoon salt
8 (8-inch) rice-paper rounds plus additional in case some tear
48 fresh cilantro leaves (from about 1 bunch)
1 seedless cucumber (usually plastic-wrapped; 1 lb), peeled, cored, and cut into 1/8-inch-thick matchsticks
2 carrots, peeled and cut into 1/8-inch-thick matchsticks
3 scallions, cut into 3-inch-long julienne strips
1 pound firm-ripe mango, peeled, pitted, and cut into 1/8-inch-thick matchsticks
1 red bell pepper, cored and cut into 1/8-inch-thick matchsticks (if creating Sweet Pepper version below)
Make sauce:
Stir together all sauce ingredients in a small bowl until sugar is dissolved.
Make rolls:
Add shrimp to a 4- to 5-quart pot of boiling salted water then reduce heat and poach shrimp at a bare simmer, uncovered, until just cooked through, about 3 minutes. Transfer shrimp with a slotted spoon to a bowl of ice and cold water to stop cooking, then return shrimp cooking water to a boil. Chill shrimp in ice water 2 minutes, then drain and pat dry. Cut each shrimp in half lengthwise, deveining if necessary.
Add noodles to boiling water and cook until just tender, about 3 minutes. Drain in a colander, then rinse under cold running water and drain well. Stir together vinegar, sugar, and salt in a large bowl until sugar is dissolved, then add noodles and toss to coat. Drain any excess dressing.
Put a plate on a work surface and fill a shallow baking pan with warm water. Check rice-paper rounds and use only those that have no holes. Soak 1 round in warm water until pliable, 30 seconds to 1 minute, then carefully transfer to plates.
Arrange 3 shrimp halves (cut sides up) in a row across bottom third (part nearest you) of soaked rice paper. Spread 1/4 cup noodles on top of shrimp and arrange cilantro leaves, cucumber and carrot matchsticks, scallion strips, and mango matchsticks horizontally on top of noodles. Fold bottom of rice paper over filling and begin rolling up tightly, stopping to fold in ends in after the first roll. Transfer spring roll, seam side down, to a plate and cover with dampened paper towels. Make 7 more rolls in same manner and serve, whole or halved diagonally, with dipping sauce.
Sweet Red Pepper Spring Rolls
For the variation, we used red pepper instead of mango (this one was my favorite). We served it with the fish sauce dip in the recipe, plus sriacha and a peanut sauce I made with peanut butter, soy, and sesame oil. A dry riesling rounded out dinner and a movie night.