January 18, 2011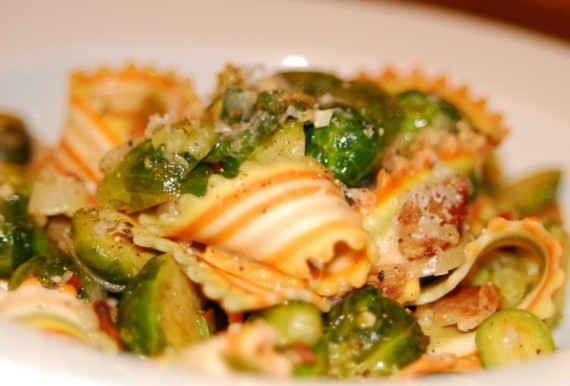 This weekend, after 10 months of growing, I finally harvested my brussels sprouts, one of the first vegetables I planted in my garden. We yielded a little over 4 pounds, so it was time for me to find some new, delicious recipes to try out.
A while back I remembered seeing a pasta with brussels sprouts, and since I just picked up a box of Mother-In-Law's Tongue at World Market (beautiful, striped pasta – like a candy cane, only better!), I thought this might be the perfect recipe to search out.
Unfortunately I couldn't find the pasta I was thinking of, with shaved brussels sprouts, but admittedly, I didn't try too hard because I stumbled upon this recipe at Martha Stewart for a pasta with bacon and brussels sprouts – one of my favorite pairings! Two things I will note, in her original recipe she calls for olive oil to be added to the bacon fat if there's not enough – but I can't imagine that being a problem with the amount of bacon called for. The second thing is next time I might cut down a bit on the cheese. As it is, I used a scant 1/2 cup, and I think a quarter cup would have done nicely.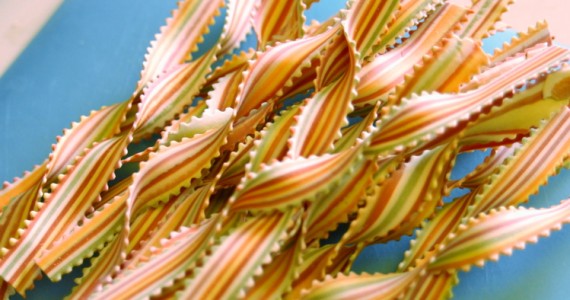 Pasta with Brussels Sprouts and Bacon
slightly adapted from MarthaStewart.com
Serves 4
6 ounces bacon (about 7 slices), cut into 3/4-inch pieces
2 large garlic cloves, minced
4 large shallots, cut into thin rounds
1 1/4 pounds brussels sprouts, trimmed and halved (quartered if large)
1 1/4 cups homemade or low-sodium store-bought chicken stock
Coarse salt and freshly ground pepper
8.8 ounces Mother-In-Law's Tongue pasta (original recipe calls for 12 oz. rigatoni)
1/2 cup freshly grated Parmesan cheese, plus more for serving
1/3 cup coarsely chopped fresh sage leaves, about 20 leaves
Heat a dry large skillet over medium heat. Add bacon; cook, stirring occasionally, until crisp, 5 to 7 minutes. Using a slotted spoon, transfer to a paper-towel-lined plate to drain. Leave about 2 tablespoons of bacon fat in skillet. Add garlic, shallots, and sprouts; cook, stirring occasionally, until pale golden, about 3 minutes. Add stock; season with salt and pepper. Cook until most of the liquid has been absorbed and sprouts are tender, 10 to 12 minutes.
Meanwhile, bring a large pot of water to a boil; add 1 tablespoon salt and the pasta. Cook according to package directions until al dente. Drain, reserving 1/2 cup cooking liquid; return pasta to pot.
Stir in sprouts mixture, reserved 1/2 cup cooking liquid, and cheese. Drizzle with 2 tablespoons oil; add sage and bacon. Toss until combined. Serve with more cheese.