December 28, 2013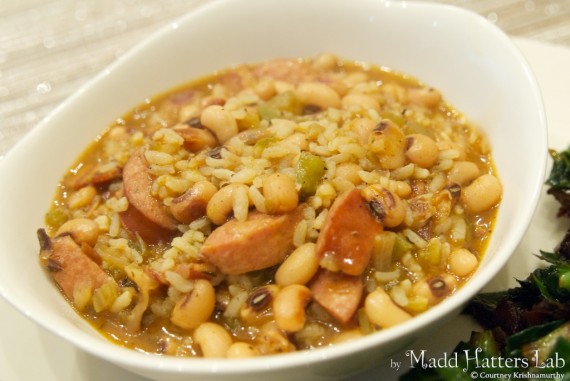 Hoppin' John is one of my favorite dishes, and it's something that really shouldn't be confined just to the first day of the year. For those of you who have never heard of Hoppin' John, it's a traditional Southern dish made with rice and black eyed peas, and when eaten on New Year's Day, it is supposed to bring good luck and prosperity for the year. It is generally served with greens. The black eyed peas are supposed to resemble coins, and the greens add to the year's prosperity and wealth due to their green color (you know, the color of money). Sometimes cornbread also gets into the action, given its golden color (again, the color of a different kind of money). While I'm not sure about all that, I am sure that creamy black eyed peas mixed with the saltiness of bacon and spiced up with some andouille and pepper makes taste buds happy and fills up bellies.
Hoppin' John
Serves 8
1 pound black eyed peas, soaked overnight and drained
5 thick slices bacon, diced
3 cups chopped onion, in all
2 cups chopped green bell pepper, in all
1 1/2 cups chopped celery, in all
3 bay leaves
11 cups chicken stock, in all
2 cloves garlic, minced
1 pound smoked andouille, cut into half-inch thick slices
2 cups uncooked rice
Seasoning Mix (combine the following thoroughly):
1 tablespoon sea salt
1 tablespoon paprika
2 1/2 teaspoons black pepper
1 1/2 teaspoons garlic powder
1 teaspoon onion powder
1 teaspoon white pepper
1 teaspoon dried basil
1 teaspoon dried thyme
Portion out the onions, bell peppers, and celery as follows: Bowl 1) 2 cups onions, 1 cup bell peppers, 1 cup celery; Bowl 2) 1 cup onions, 1 cup bell peppers, 1/2 cup celery.
Heat a heavy oven-proof 6 quart pot over high heat. Add the bacon, and cook for about 6 minutes, stirring often, until the bacon is browning and has released most of its fat. Add in Bowl 1 from above, along with 2 tablespoons of the seasoning mix, the bay leaves, and half the black eyed peas. Stir well, cover, and cook for 10 minutes, uncovering twice during cooking to stir the mixture.
After the 10 minutes has passed, uncover and add 2 cups of chicken stock and the garlic, and scrape any crust that's formed from the bottom of the pot.. Bring to a boil and cook, stirring occasionally, for 15 minutes. Add 2 cups more stock and scrape the bottom of the pot clean again. Add the sausage, 5 cups chicken stock, Bowl 2 from above, and the remaining black eyed peas and seasoning mix. Stir, cover, and bring to a boil over high heat. Reduce the heat to low and simmer, covered, for 35 to 40 minutes, or until the black eyed peas are tender and creamy inside.
Preheat the oven to 350 degrees as the Hoppin' John simmers. When the 35 – 40 minutes are up, stir in the rice and the remaining 2 cups of chicken stock. Turn the pot back up to high heat and bring to a boil. Cover the pot once it reaches a boil, and transfer it to the oven. Bake for 15 minutes, until the rice is cooked through.