December 29, 2013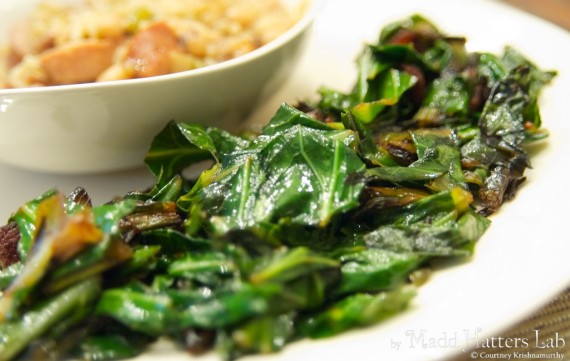 Collard greens is one of those things that I kept trying to like, but for the life of me I couldn't. It never made sense, because I like spinach, stir-fried mustard greens, kale… so why not collard greens? So when I recently made Hoppin' John, which almost has to be accompanied by greens, I decided to give it another spin. If anything, my husband loves all kinds of greens, so he could eat them. Lucky for me, this time I hit upon a magical combination of ingredients that made me love these as much as all the other greens I've fell in love with over the years. I took the preparation approach of an Italian-stewed kale I love, mixed in my favorite dressing approach from spinach salads, and was careful not to overcook the greens so there was still a bit of bite to them. The result was nothing short of fantastic, and I foresee serving this dish a few more times this winter before collard greens disappear.
If you are making this with the Hoppin' John, get the ingredients prepped while the Hoppin' John is simmering for 35 to 40 minutes, and cook during the 15 minutes the Hoppin' John finishes in the oven. The timing works out perfect.
Collard greens
Serves 2 to 4
1 bunch collard greens, washed and dried
2 tablespoons rendered bacon fat
2 slices bacon, diced
2 scallions, cut into 1/2 inch pieces
Salt & fresh ground pepper, to taste
2 tablespoons aged balsamic vinegar (something sweet in taste, I used a tomato-flavored balsamic, but any flavoring or nicely aged balsamic will work)
To prep the collard greens, remove the stems from the leaves and set aside. Roll the leaves in a bundle and slice into 1 inch pieces. Set aside. Cut the stems into 1/2 inch pieces and keep separate from the leaves.
Heat a large, heavy skillet over high heat. Add the bacon fat and bacon, cooking for 5 to 6 minutes, until the bacon pieces are crisp. Add the collard green stems to the pan carefully (the bacon fat will sputter due to the water in the stems), and stir, coating the stems with fat. Cover and cook for 3 to 4 minutes, shaking the pan often to keep the stems from sticking.
Uncover the pan and add the scallions. Turn the heat down to medium. Stir, and again cover for 1 to 2 minutes, shaking the pan. Uncover and add the strips of the collard green leaves. Season with salt and pepper to taste (you won't need much salt due to the bacon being salty), and stir the leaves, coating them with the bacon fat and letting them wilt a bit. Cover again for 2 to 3 minutes, until the greens are bright and wilted, but still have a decent snap to them. Add the vinegar to the pan, and stir the leaves to coat them evenly. Serve immediately.