November 5, 2010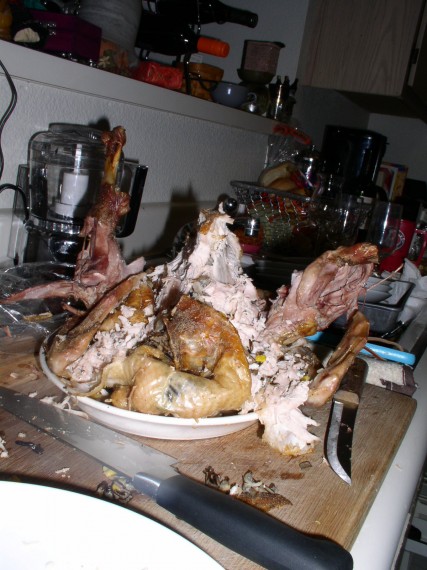 My favorite holiday is Thanksgiving. Somewhere around October 1st I start getting the urge to plan, to start thinking about what the perfect meal will be. Come November 1st, it's high time to start pulling out all of my previous menus, turkey recipes saved, Martha Stewarts from Novembers and Decembers past. About a week or so before I'll finalize the menu, send it around (in the fancyfont), solicit feedback. Then my master shopping list is printed out – every ingredient for every recipe listed, then compiled, ticked off against what I already have, and split out into various trips to the store (weekend before, Wednesday before).
With all of this planning and anticipation, you'd think I'd be uptight about the big day. That I might send out a letter similar to this nut, stipulating that everything must be perfect! Actually, it's not about that at all. Enter the above turkey…
This turkey was perfect. It was the first turkey I had ever decided to stuff, and I decided on Wild Rice and Corn Stuffing from that year's Martha Stewart Living. Issue number one cropped up when I went to cook the turkey; I had forgotten to buy an aluminum pan at the store big enough for a turkey. Luckily, my turkey was quite small (less than 10 pounds), so he fit into the largest pan I had with not much room to spare. Crisis averted.
My mom and aunt were coming to visit. It was our first Thanksgiving in California; we had moved in just a couple of weeks before. We had no couch, and I'm sure there were still boxes sitting around. I had just sprinted to Ikea a couple of days before and bought a dining room table and 4 chairs, that I was able to shove into the back of my Honda Accord.
But back to the turkey. Mom and my aunt landed around two, and given the time difference (3 hours), they were certainly ready to eat. Back then I didn't generally do appetizers, I just got the main course done on time.
Only this time it wasn't done on time. The turkey, despite me carefully figuring out the cooking time (and this wasn't my first time roasting a turkey), wasn't done. So we waited. And I checked the temperature. We waited some more. I checked again. An hour and a half later, the bird was done. And what a beautiful bird it was. It looked like one of those shellacked birds you see in a magazine. The wild rice had made the most beautiful cross-hatch pattern. All we wanted to do was devour this turkey.
And we did! I've never been great at carving a turkey, and back then the only knife I had was a chef's knife. We hacked away at the bird, eating little bits and pieces as we tried to get big chunks of breast and dark meat onto the plates. The four of us ate almost the whole bird, and copious amounts of side items. After dinner, with a full tummy, I look over, and I see the above.
What a hilarious sight! This thing looks like something out of A Christmas Story. Only instead of the dogs, it was three hungry Southern gals and an Indian that attacked this turkey. Laughter went from a chuckle to full on belly laughs from the entire table, and at that point, I decided to grab the camera and take a picture. I think this might be the first food picture I ever took.
So to everyone going into the Thanksgiving season, just remember this story. Everything doesn't need to be perfect, in fact, the most memorable moments likely aren't.
Wild Rice Stuffing
from Martha Stewart Living, November 2004
Serves 8, makes about 7 cups (enough for an 18 pound turkey)
2 cups wild rice
Coarse salt
2 tablespoons vegetable oil
2 small red onions, cut into thin rounds
3 garlic cloves, minced
2 fresh serrano or jalapeno chiles, thinly sliced
1 cup frozen corn kernels, thawed
1/4 teaspoon freshly ground pepper
2 tablespoons fresh lime juice
Bring 5 cups water to a boil in a medium saucepan; add rice and 1 tablespoon salt. Cover; reduce heat. Cook rice until al dente, 35 to 40 minutes (not all water will be absorbed). Drain well.
Heat oil in a large skillet over medium-high heat until hot but not smoking. Add onions and garlic; cook, stirring, until soft, about 2 minutes. Add chiles; cook 30 seconds.
Stir onion mixture, corn, pepper, and lime juice into rice; season with salt. Serve, or immediately pack loosely in turkey cavity, and cook until an instant-read thermometer inserted into the center of the stuffing registers 165 degrees.
Vegetarian & vegan alternative: Obviously, don't stuff this in the turkey. Stop at "Serve…" in the above paragraph.