April 10, 2013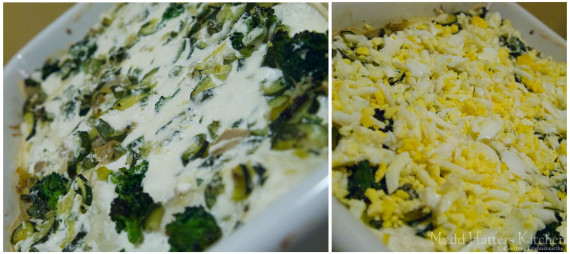 I first spied this lasagne in La Cucina Italiana magazine, and from that point on I couldn't get it out of my head. Filled with spring vegetables, topped with hard boiled eggs, it looked beautiful. I wasn't sure about the hard boiled eggs, and even though this is good without them, I wouldn't think of leaving them off. The contrast of the green vegetables and the yellow yolk just make you think, "spring!", but the flavors also work really well together.
The one thing I would change (and have changed) about this recipe? The original recipe called for thick slices of mozzarella in the filling, and while I love mozzarella, it just seemed to make this very delicate lasagne heavy and rubbery. So I've switched it out with a nice, creamy goat cheese that pairs perfectly with the flavors of spring and melts nicely into the delicate folds of pasta and tender vegetables that make this pasta phenomenal.
Lasagne primavera
Adapted from La Cucina Italiana magazine
Serves 8
For the pasta
1 cup plus 2 tablespoons unbleached all-purpose flour, plus more for dusting
2 large eggs
Fine sea salt
For the filling
2 cups very small broccoli florets
Fine sea salt
1/4 cup plus 2 tablespoons extra-virgin olive oil
1 pound zucchini, trimmed, thinly sliced into half moons
2 medium leeks, thinly sliced (white and pale green parts only), rinsed well and patted dry
1/2 pound asparagus, trimmed and cut crosswise on the diagonal into 1/4-inch-thick rounds
4 jarred artichoke hearts in water, drained, patted dry and thinly sliced (or, rinse artichokes packed in oil)
2 tablespoons finely chopped parsley
Freshly ground black pepper
12 ounces goat cheese, crumbled
For the bechamel
1 1/4 cups whole milk
2 tablespoons unsalted butter
3 tablespoons unbleached all-purpose flour
1 pound whole milk ricotta cheese
1/2 teaspoon fine sea salt
1/8 teaspoon freshly grated nutmeg
Unsalted butter for greasing baking dish
4 large eggs
For pasta: On a clean work surface, mound flour and form a well in the center. Add eggs and pinch salt to the well. Using a fork, gently break up yolk and slowly incorporate flour from inside rim of well until liquid is absorbed. When dough becomes too stiff to work with a fork, knead by hand until flour is fully incorporated. Wrap dough tightly in plastic wrap and let rest at room temperature for 30 minutes. While pasta rests, prepare filling.
For Filling: Blanch broccoli in a small saucepan of salted boiling water, 1 minute. Drain in a colander, then run under cold water to stop cooking.
In a large wide saucepan, heat oil over medium heat. Add zucchini, leeks, asparagus and generous pinch salt; reduce heat to medium-low and cook, covered, stirring occasionally, until vegetables are tender, 15 to 20 minutes. Transfer mixture to a large bowl. Add broccoli, artichokes, parsley, 1/2 teaspoon salt and 1/4 teaspoon pepper; stir just to combine, then set aside.
Bring a large pot of salted water to a boil. Meanwhile, cut pasta dough into 2 pieces. Flatten 1 piece so that it will fit through the rollers of a pasta machine. Set rollers 
of pasta machine at the widest setting, then feed pasta through rollers 4 times, folding and turning pasta until it is smooth and the width of the machine. Roll pasta through machine, decreasing the setting one notch at a time (do not fold or turn pasta), until pasta sheet is scant 1/8 inch thick. Cut sheet into rectangles about 7 inches long and the width of the pasta roller. Lay lasagna sheets on a lightly floured baking sheet in a single layer between very lightly floured pieces of parchment or waxed paper until ready to use. Repeat with second piece of dough.
Set a large bowl of ice water adjacent to stove. Add lasagna sheets, a few at a time, to the boiling water. Cook for about 15 seconds. Immediately remove with a slotted spoon and transfer to ice water to keep from overcooking. Drain well.
For bechamel: In a small saucepan, heat milk over medium-low heat; bring just to 
a boil, then remove from heat. In medium saucepan, melt butter over low heat. Add flour and cook, stirring constantly with a wooden spoon, 2 minutes (do not brown). Remove from heat.
Add about 2 tablespoons of the warm milk to flour mixture, stirring constantly 
until milk is incorporated. Repeat until about 1/2 cup of the milk has been added, incorporating between additions. Then, in a slow and steady stream, whisk in remaining milk. Bring mixture to a gentle simmer and cook, stirring frequently, especially into 
edges of pan, until sauce is the consistency of a thick cream, about 5 minutes more. Remove from heat, then whisk in ricotta, salt and nutmeg.
To Assemble: Heat oven to 375 degrees. Grease a 12x8x2 inch baking dish with butter. Lightly pat 
dry lasagna sheets with a clean kitchen towel to absorb excess moisture.
Spread 1/2 cup of the bechamel on the bottom of prepared baking dish. Top with a layer of lasagna sheets, overlapping the noodles slightly. Cover with 1/3 each of the bechamel and vegetables, and 1/2 of the goat cheese. Top with another layer of pasta, trimming noodles, if necessary, to fit the dish. Top with another layer of bechamel, vegetables and remaining goat cheese. Add one more layer of pasta and top with remaining vegetables and bechamel. Bake lasagna until heated through and bubbly, about 30 minutes.
While lasagna is cooking, place eggs in a saucepan just large enough so that eggs 
sit in a single layer. Fill pan with tepid water to cover eggs by 1 inch. Over high heat, bring water just to a low boil, then remove from heat and cover. Begin timing immediately, 6 minutes.
Transfer eggs to a bowl of ice water to stop cooking; let cool completely. On a work surface, gently tap boiled eggs all over to crack. Peel under cold running water. Pat dry eggs, then grate on the large holes of a box grater. Set aside egg "mimosa".
Let lasagne rest in pan on wire rack 5 to 10 minutes. Sprinkle lasagne with mimosa just before slicing and serving. Serve warm.