January 6, 2011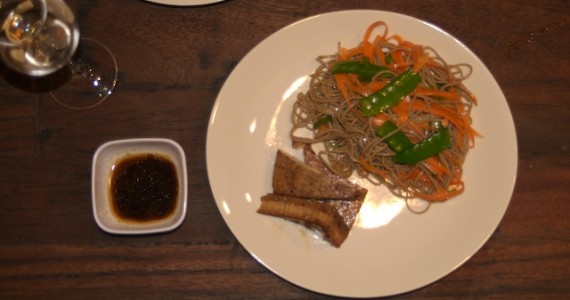 It's that time of year when everyone vows to better themselves. Some want to tighten their budgets and keep an eye on the finances (and for the frugal, check out what to do with your vegetable scraps to make them go the extra mile). Some want to spend more time with friends and family (and what better way than over a hotpot full of sukiyaki?). But most make some sort of resolution about slimming down, eating healthier, and exercising.
So for that last group, I post this recipe from Martha Stewart. It's one of my favorite weeknight meals, and it's the meal that changed my mind about tofu, convincing me to try it in the first place, and surprisingly liking it. This meal is vegetarian – vegan even! Soba noodles are one of my favorites, so I'll take any excuse to gobble them up. This recipe is light, but filling, and nice and warm on a chilly night.
Broiled Black-Pepper Tofu
from Martha Stewart Living
Serves 4
1 1/2 blocks firm tofu, from two 14-ounce packages
2 tablespoons soy sauce (preferably tamari)
1 tablespoon toasted sesame oil
3/4 teaspoon freshly ground pepper
Cut tofu crosswise into 6 slices (about 3/4 inch thick each). Cut each slice diagonally into 2 triangles. Line a rimmed baking sheet with a double layer of paper towels. Place tofu on top, and cover with another double layer of paper towels. Place another baking sheet or a large plate on top. Weigh down with heavy objects (such as large cans of food); let stand 20 minutes.
Preheat broiler with rack 6 inches from heat. Stir together tamari soy sauce, oil, and pepper in a 9-by-13-inch baking dish. Pat tofu dry with paper towels; transfer to baking dish. Turn to coat both sides with marinade. Broil, flipping once, until golden brown, about 4 minutes per side. Serve with dipping sauce.
Soy-Lemon Dipping Sauce
from Martha Stewart Living
Makes 1/2 cup
2 tablespoons minced and peeled fresh ginger
1/4 cup soy sauce (preferably tamari)
1/2 teaspoon freshly grated lemon zest, plus 1 tablespoon plus 2 teaspoons fresh lemon juice (1 lemon total)
1 teaspoon toasted sesame oil
Whisk together ginger, tamari soy sauce, lemon zest, lemon juice, and sesame oil in a small bowl. Set aside at room temperature until ready to serve. Just before serving, stir well.
Soba Noodles with Snap Peas and Carrots
adapted from Martha Stewart Living
Serves 4
Coarse salt
8 ounces sugar snap peas, trimmed, strings removed
12 ounces soba noodles
1 tablespoon plus 1 teaspoon peanut oil
1 tablespoon plus 1 teaspoon sesame oil
2 medium carrots, about 1/2 pound, peeled and shaved into thin strips using a vegetable peeler
1 teaspoon minced peeled fresh ginger
4 scallions, thinly sliced crosswise
1 tablespoon soy sauce (preferably tamari)
Freshly ground pepper
Prepare an ice-water bath; set aside. Bring a large (8-quart) pot of water to a boil; add salt. Add peas; cook until bright green and crisp-tender, about 2 minutes. Using a slotted spoon, immediately transfer peas to ice-water bath to stop the cooking; drain. Return water to a boil; cook noodles according to package instructions. Drain. Rinse noodles with cold water; drain.
Transfer noodles to a large bowl. Add oils; toss to combine.Add reserved peas, the carrots, ginger, scallions, and soy sauce; season with pepper. Toss to combine. Serve at room temperature.
A note about this recipe being gluten free: Make sure you use gluten-free tamari for this recipe, and that your soba noodles are made from 100% buckwheat flour.