September 8, 2010
Another quick weeknight meal for you, as you continue to recuperate from the marvel that is the 3-day weekend. While this may take just a tad longer than the zucchini and onion stir-fry I featured yesterday, it's not too much longer, and it's oh-so-delicious! Plus, it's another use for that stock you've made; this time it's not a soup!
There are two things you will want to do before you start slicing and dicing. Put your water on to boil, and get the Italian sausages defrosted and ready to go in the pan. Now that we've cleared that up, 1-2-3–Let's cook!!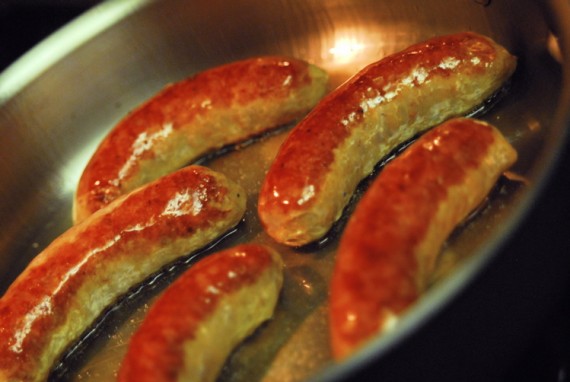 While the sausages are defrosting, get the oil warmed up in the skillet. Drop those in to brown, and then continue prepping the rest of the ingredients, cutting the broccoli into florets and mincing your garlic.
The recipe:
Orecchiette with Broccoli and Italian Sausage
Serves 4
1 tablespoon olive oil
16 oz. Italian sausage (preferably spicy)
3 cloves of garlic
2-3 small heads broccoli
1 cup of vegetable or beef stock
12 oz. orecchiette
Parmesan
Salt and pepper to taste
Bring a large pot of water to a boil. Heat oil in a skillet over medium heat. Brown sausages, then cover and turn to low. Cook for 10 minutes, or until sausages are cooked through. Remove from pan and reserve.
Salt the water and add the orecchiette. Follow package directions, but only cook for 3/4 of the recommended time. Meanwhile, add garlic to the skillet and cook for 1 minute. Add the broccoli, season with salt and pepper, and saute for 3 minutes. Add 1/2 cup of the vegetable stock, and scrape the bottom, continuing to cook the broccoli and garlic for another 5 minutes. Slice the sausage into 1/2 inch pieces, and add back into the skillet. Drain the pasta, and add to the skillet. Adjust the seasoning, and add the other half of the vegetable stock, tossing the pasta and broccoli mixture until combined. Serve immediately, topped with grated parmesan cheese.
If your store doesn't carry orecchiette, or you just don't have it on hand, farfalle (bow tie pasta) also works really well. Fusilli (corkscrews) also work nicely.