November 6, 2013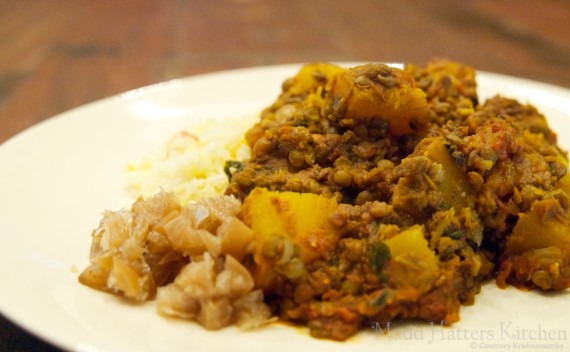 A couple of weeks ago when I walked by a huge pile of sugar pumpkins at the grocery, I couldn't help myself. I picked one up. In the back of my mind I had this tagine on my mind – green lentils, chunks of pumpkin, spicy harissa paste. Luckily these little pumpkins keep for a while, so it was my sole Halloween decoration for a week or so, before I gutted it and made it dinner.
Sugar pumpkins have a similar texture to butternut squash, which would work just as well for this recipe. I expected the recipe to turn out super spicy due to the harissa, but when I started cooking I realized only a minuscule amount was called for. Of course, I fixed that! It still came out very mild, in a good way, and made me think this might be the perfect addition to a Thanksgiving dinner, either as a side dish or a vegetarian main course. Of course, if you want to spice it up a bit and throw in some preserved lemons and saffron rice, you've got yourself an exotic Moroccan meal, which is how I've enjoyed this meal for the past week (it makes a lot!).
Whether you make this mild and serve it for Thanksgiving or you use leftover veggies from Thanksgiving and make an exotic feast, I urge you to make it! It's one of the best new recipes I've tried in a while, especially in the vegetarian category. And if you are looking for the perfect wine pairing, have Longboard Vineyard's 2010 Russian River Valley Syrah with this dish. It's like they were made for each other.
Pumpkin and green lentil tagine
Serves 8 to 10
1 1/2 cups green lentils
1 sugar pumpkin (about 5 pounds before being peeled and seeded) or 2 butternut squash
3 tablespoons olive oil
1 medium onion, chopped
3 garlic cloves, minced
3/4 teaspoon ground cumin
3/4 teaspoon ground turmeric
Harissa; see note below ingredient list on amount
1 teaspoon paprika
6 ounces tomato sauce
3 ounces tomato paste
1/4 cup fresh parsley, chopped
1/4 cup fresh cilantro, chopped
Note: The amount of harissa you need will depend both on the amount of spiciness you prefer and the type of harissa you have. Some harissas are hotter and made up mainly of pepper paste, others are milder with tomatoes or carrots mixed in. Initially I used 1 1/2 heaping tablespoons in this recipe of a mostly-pepper harissa, and the result was very mild – no real heat, but a nice spiciness. When I rewarmed my tagine, I added about 2 tablespoons of harissa to each serving and stirred it in, which resulted in a nice heat, but still not overwhelming for me. My suggestion is if in doubt, start small, and let others add in harissa if they want to feel the heat. If you cannot get your hands on harissa, you could also add ground cayenne pepper when cooking. I would suggest using only 1 to 1 1/2 teaspoons of pepper so it doesn't give your tagine a bitter taste.
Rinse the lentils under cold water. Tip into a saucepan and add 4 cups of cold water. Bring to a boil, salt with about 1 tablespoon of sea salt, then cover and simmer over low heat for 20 minutes.
Meanwhile, seed and peel the pumpkin. Cut the pumpkin into 1 inch dice.
Heat the oil in the bottom of a dutch oven or tagine over medium heat. Add the onion and cook until softened. Add the garlic, cook for a few seconds, then stir in the cumin, turmeric, harissa, and paprika. Cook for 30 seconds, then add the tomato sauce, tomato paste, half the parsley and cilantro.
Add the lentils with their water and the pumpkin and season with salt and pepper. Stir well, then cover and simmer for 30 to 35 minutes, until the pumpkin and lentils are tender, adding a little bit of water if the mixture becomes too dry (about 1/4 cup at a time, though it probably won't be needed). Adjust seasoning and garnish with the remaining parsley and coriander. Serve hot.