August 1, 2011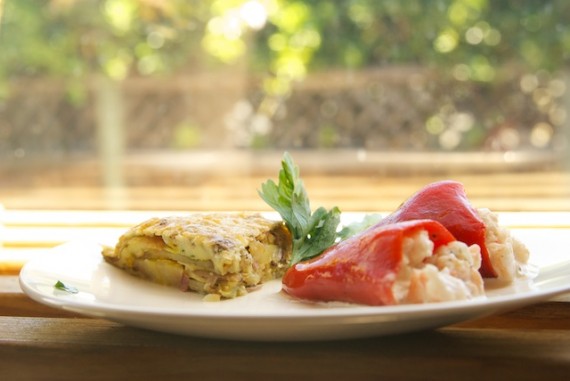 One of my favorite quick meals in the summer is a stuffed piquillo pepper. Piquillo peppers are a roasted, red Spanish pepper. They're not too spicy and have a hint of sweetness about them. You can stuff them with any number of things, such as cheese, seafood, meat, rice. While one of my favorite ways to enjoy them is stuffed with a goat cheese (more on that another day), I had eyed this shrimp salad recipe from Martha Stewart for a long time and decided it must be tried. One super-simple summer meal coming up!
I adapted this recipe a bit, using already cooked shrimp and a little less mayonnaise. The result? A wonderful addition to my tapas repertoire. Try this with a Spanish tortilla and sangria. Or, if you want to mix cultures, this would be wonderful served with my bellini for a lazy weekend lunch.
Piquillo Peppers Stuffed with Shrimp Salad
slightly adapted from Martha Stewart Living
Serves 6
2 tablespoons extra-virgin olive oil
8 ounces large shrimp, peeled and deveined
Coarse salt and freshly ground pepper
1 plum or roma tomato
1/2 small onion, finely chopped (1/4 cup)
1 garlic clove, minced
2 tablespoons medium-dry sherry, such as amontillado
1/4 cup mayonnaise
6 jarred or canned piquillo peppers, drained
Directions
Season and finely chop the shrimp, and transfer to a bowl.
Prepare an ice-water bath. Bring a small pot of water to a boil. Add tomato, and cook until skin loosens, about 1 1/2 minutes. Using a slotted spoon, transfer to ice-water bath until cool enough to handle, about 1 minute. Peel tomato, cut into quarters, and remove and discard seeds. Finely chop tomato.
Heat remaining tablespoon oil in pan over medium heat. Add onion and garlic. Cook, stirring occasionally, until soft, 5 minutes.
Stir tomato into onion mixture, and cook for 2 minutes. Remove pan from heat; pour in sherry. Return to medium-high heat for 1 minute. Stir tomato mixture into shrimp, and season with salt and pepper. Let cool.
Stir in mayonnaise. Stuff each pepper with shrimp salad.