March 30, 2014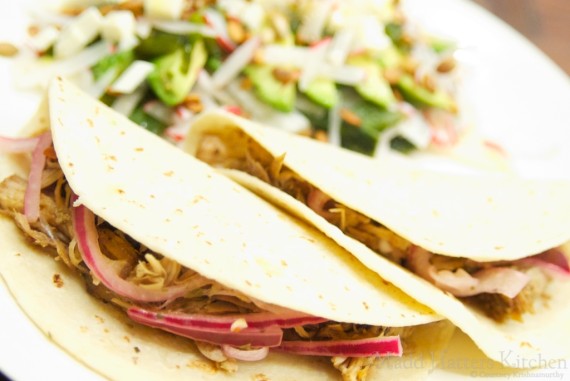 I'm not much of a slow cooker girl. It's rare that I get my act together early enough in the day to plan ahead for dinner, having all the ingredients I need on hand, readying them for that slow cooking pot. However, this recipe, only needing to cook for 6 hours, means I can be my procrastinative self and put this on later in the day if need be. It's the perfect meal to cook on a lazy Sunday.
Most of the ingredients in this list are pantry items for me, which lessens the need to go to the store. I kept this recipe simple, with just two flavorful items going into my tortilla – pork and pickled onions. The pork is juicy and melt-in-your-mouth tender, with a nice heat, while the pickled red onions bring a little sharpness and crispness to the meal, cutting through the fat while adding a gorgeous jewel-like color to each bite.
Since I kept the ingredients on the tacos minimal, I decided to get my traditional taco toppings (read: veggies!) via a salad on the side. While looking for ideas beyond rice and beans as a side dish, I stumbled upon this recipe for a spicy avocado poblano salad from Sunset magazine. Roasted poblanos, jicama, radishes, cojita, and avocados, all dressed with a lime vinaigrette and topped with a few pumpkin seeds was the perfect accompaniment to the rich flavor of the tacos.
Slow Cooker Pulled Pork Tacos with Pickled Red Onions
Serves 6
2 pound pork butt
2 ounces chipotle chile in adobo
1/2 cup chicken stock
1 tablespoon Pepper Plant hot sauce
2 tablespoon Worcestershire
1/2 onion, chopped
2 garlic cloves, crushed
1/2 bunch cilantro stems
1/2 teaspoon cocoa
1/2 teaspoon New Mexico chile powder
1 teaspoon Mexican oregano
1 teaspoon ground cumin
7 ounces tomato sauce
Salt & pepper
Corn tortillas to serve
Pickled red onions to serve (recipe below)
Cut the pork butt into 3 to 4 large chunks, and season with salt and pepper. If your slow cooker has a browning function, turn it on and brown the pork butt on all sides, in batches if need be (otherwise, complete this step on your stovetop over medium-high heat). Nudge the pork to the side or remove it to a plate. Add all of the ingredients from the chipotle chiles to the tomato sauce, give the mixture a stir, and nestle the pork down into the mixture, adding a little water if needed to submerge the pork (you just want liquid barely over the top of the pork). Cook the pork for 6 hours.
When the pork is done, remove it from the slow cooker, straining and reserving the cooking juices. Using two forks, pull apart the pork so it is shredded into small chunks. Meanwhile, reduce the cooking juices, boiling them for about 10 minutes. Dress the pork with about 1/4 cup of the juices, thoroughly combining.
To serve, place pork in the corn tortilla. Top with pickled red onions.
Pickled red onions
Makes about 1/2 quart
1/2 cup rice vinegar
1 1/2 tablespoons sugar
1 teaspoon red pepper flakes
1 teaspoon kosher salt
1 teaspoon dried oregano
1 red onion, thinly sliced
Place all ingredients except the red onion in a small pot. Bring to a boil, then simmer to dissolve the sugar and salt into the vinegar. Place the red onion in a quart jar and cover with vinegar mixture, adding water to completely cover the onions (you will end up adding about as much water as you did vinegar to the jar). Let the jar sit at room temperature for 6 hours, shaking occasionally if you happen to be around. Refrigerate.