November 15, 2011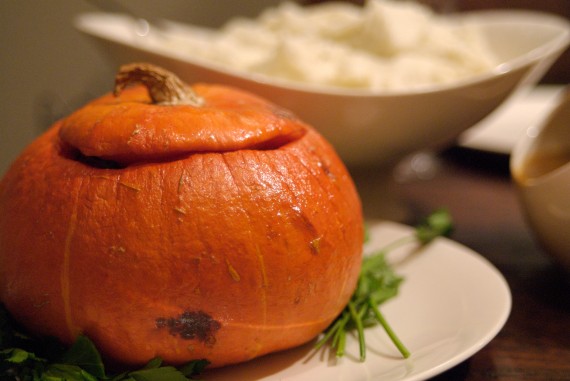 When the word "vegetarian" pops up in the context of someone coming to dinner, it can sometimes make this Southern girl's heart skip a beat.
"Whatever will I cook?" I think to myself.
Add that to Thanksgiving dinner, and the heart goes pitter-patter for more than a beat. I mean, I'm the person who puts giblets in the dressing and cooks brussels sprouts with bacon fat. Mashed potatoes are one of the few things meat isn't added to.
Then I stop, and I realize there are so many meals that I make without the addition of animal fat. I cook with copious amounts of olive oil these days, instead of butter. Hell-o, I even make gravies that don't start with meat, so making a Thanksgiving dinner that works for both the omnivores and herbivores in my life should be a breeze. But I don't want it to just work, I want it to be an extra-special meal for everyone coming to dinner.
And that's where the Stuffed Pumpkin came into my life. I loved the idea. It's as beautiful of a centerpiece, if not more so, than the turkey. However, most of the recipes I saw sounded just awful. Vegetables that have no business co-mingling were shoved into a pumpkin, sometimes combined with varying types of soy product. The resulting stuffing looked like mush, and I can't imagine it tasted much better.
So I set out to create my own stuffed pumpkin, filled with roasted veggies of multiple colors, some with a crunch, some softer, a balance of nature's sweetness and savory flavors. The result was a dish that everyone at the table enjoyed.
This recipe is very adaptable. It could easily be made into a vegan recipe by substituting the butter with additional olive oil. Also, I used two smaller pumpkins instead of one large one last year, as I made one without mushrooms for my mom, who's allergic to them. So mix and match your favorite vegetables to make this recipe your own.
Courtney's Stuffed Pumpkin
6 oz. green beans, trimmed
4 oz. sugar snap peas, trimmed
1 cup vegetable stock
2 tbl butter
3 shallots
1 red pepper
Handful of mushrooms
7 oz. whole peeled chestnuts (I used canned chestnuts)
12 oz. fingerling potatoes
1 leek, halved, light green and white parts only, cut diagonally into 1 ½ in. thick slices
5 carrots, cut diagonally
2 turnips, cut into eighths
4 parsnips, cut into 1 inch thick slices
1/2 medium butternut squash, cut into 1 inch cubes
2 tbl sliced garlic
1/2 cup flat leaf parsley
10 lb. pumpkin
Salt and pepper, to taste
Bring water to a boil and flash the beans and snap peas for 2 minutes, then transfer to an ice water bath.
Preheat oven to 375. Rub inside and cute side of the top of the pumpkin with olive oil. Place on a parchment lined sheet and cook until tender but still holding shape – 30 minutes to 1 hour.
Heat butter in a large skillet over medium heat. Add shallots and peppers, and saute until softened. Add mushrooms and chestnuts, season with salt and pepper, then remove from heat.
Combine the potatoes through the squash and toss with olive oil, salt, and pepper, and roast for 40 minutes. Add the vegetables already cooked above and garlic and roast another 10 (take care to not to burn the garlic).
Add the mixture with the stock and the parsley to the pumpkin. Roast until heated through – about 15 minutes.
Vegan and dairy free alternatives: Replace the butter with olive oil or margarine.