October 4, 2013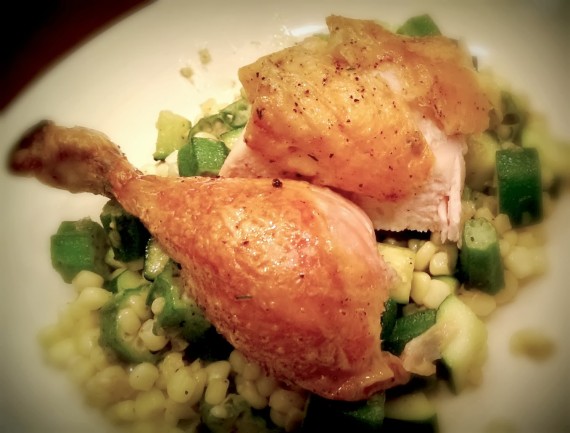 A few month's ago, while in Carmel, I had what might be the best roasted chicken I had ever had out on the town at Hog's Breath Pub. Maybe it was just because my husband and I were enjoying a weekend away together, maybe it was the wine, but either way, I couldn't get the perfectly crisp skin, flakes of salt, and fresh vegetable succotash out of my head. So of course, I decided to recreate the meal at home.
Of course, I didn't actually know what constituted a succotash. I assumed corn, because every succotash I had ever seen had corn. Making this meal was a little on the fly, as I noticed the grocery store had a large bunch of fresh corn in. So I wandered through the produce section, picking up some okra and zucchini, because it looked good. Only later did I learn that succotash also includes lima beans, by definition. So we'll call this Courtney's sort-of-succotash, sans beans, but you won't miss them.
For the chicken recipe, I decided to try Thomas Keller's simple roast chicken. I've made this chicken before, and remembered it being very good and very easy, but there's one point I forget every time. Since there's no liquids whatsoever around this bird, the first drippings fall, hit the roasting pan, and make what looks like is going to turn into a big, smoky mess. Persevere; leave that bird alone! A little bit later all the drippings quell the smokiness, and this bird cooks to a nice, crisp, golden color, flaked with gorgeous bits of kosher salt.
Simple roast chicken
adapted from Epicurious.com
Serves 4 to 6
One 2- to 3-pound organic free-range chicken
Kosher salt and freshly ground black pepper
2 teaspoons minced thyme, removed from stem and chopped
2 tablespoons unsalted butter
Preheat the oven to 450 degrees. Rinse the chicken, then dry it very well with paper towels, inside and out. You don't want excess water because you don't want the chicken to steam.
Salt and pepper the cavity, then tie the legs of the bird. Salt and pepper the outside of the bird, using about 1 tablespoon of kosher salt, rubbing the flakes all over the skin. Place the chicken in a roasting pan and into the oven once it has preheated. Roast until it is done, about 50 to 60 minutes, or when the chicken's breast reaches 160 degrees and the thigh reaches 170 degrees.
Shortly before the bird is done, melt butter and thyme.
Remove the bird from the oven, and baste with the juices from the roasting pan liberally. Pour the butter and thyme mixture over the bird, and baste a little more. Let the bird rest for 15 minutes, then carve into 8 pieces and serve.
Note: You can save the carcass to make a delicious chicken soup.
Courtney's sort-of-succotash
Serves 4
3 ears of corn, kernels cut from cob
3 medium zucchini, cut into 1/4 inch cubes
4 cups okra, sliced into 1/2 inch pieces
Olive oil
Salt & pepper
1 1/2 tablespoons butter
Heat enough olive oil to coat the bottom of a skillet thinly over medium high heat (usually about 2 teaspoons for me). Add the corn, zucchini, and okra, and cook until they begin to soften, about 5 minutes. Season with salt and pepper, and add butter, cooking for another 1 to 2 minutes until all the vegetables are cooked and coated with butter and seasonings. Serve immediately.
To make a great Sunday supper, pair this meal with a California chardonnay.