September 6, 2013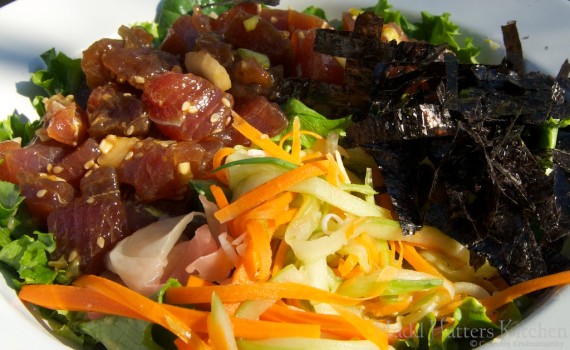 I have to say this has been one of my favorite west coast food discoveries, so I'm not quite sure where to even begin when talking about the poke bowl. I guess the point of discovery – Pacific Catch. A few years back, while being touristy in San Francisco, I ducked into a Pacific Catch with my family, and decided on a rice bowl topped with this stuff called poke, among many other Japanese-ish ingredients. I was hooked. I had to learn more about the poke. Which is when I discovered it was a Hawaiian dish that could be made an infinite number of ways. The numerous recipes, as well as the fact I needed sushi grade ahi, kept me from exploring how to make this for a long time. Upon feasting on poke in Hawaii, however, I had a renewed interest in learning to make the most common sesame-oil laced version. So after sifting through lots of recipes, I came up with what I deemed to be the perfect poke.
The great thing about the bowl is you can make this into whatever you want. Feeling hungry and in need of a boost? Put all the elements atop rice. Feeling the need to slim down? Put all the elements on greens. Want the best of both worlds? Well then, do a bowl with half rice and half greens. Just want poke? Then by all means, just make poke!
Poke Bowl
Makes 4 bowls
Gluten free, vegan, and vegetarian variations listed at the end of the recipe.
Since this recipe is made up of lots of mini recipes, I will just list each recipe in the order I suggest making it all, then finish with assembly instructions at the end.
For the poke
1 1/2 pounds sushi grade ahi tuna, cut into 1/2 inch cubes
1/4 cup soy
1 tablespoon sesame oil
3/8 cup sweet onion, minced
1/4 cup green onion, minced
1 1/2 teaspoons Hawaiian salt
1 teaspoon Sriacha (optional)
2 teaspoon sesame seeds
Combine all ingredients in a non-reactive (glass or stainless steel) bowl and stir. Set aside and let the flavors marry while you make everything else.
For the cucumber salad
1 cucumber, julienned
1 tablespoon rice wine vinegar
1 tablespoon sugar
1/2 teaspoon salt
1 small carrot, julienned
2 green onions, white and light green parts only, julienned
Place the cucumber in a colander and sprinkle with salt to draw out the excess moisture. Meanwhile, mix the rice wine vinegar, sugar, and salt in a small, non-reactive bowl. Once the sugar and salt have dissolved, add the carrot and green onion and stir. Set aside. You will add in the cucumber right before you begin assembling the bowl.
For the miso dressing
1/4 cup red miso
1/2 cup roughly chopped green onions
1 inch peeled and roughly chopped fresh ginger
1 clove garlic
2 teaspoons agave nectar
2 teaspoons sesame oil
1/2 cup water
Add all ingredients to a food processor and blend until smooth.
Remaining ingredients for bowl
1 sheet nori, cut into thin strips
Pickled ginger, drained
2 avocados, halved and sliced
Mixed greens
Cooked white rice, cooled
Before you begin to assemble the bowl, go back to your cucumbers that were draining and add them to the rice wine vinegar/carrots/green onions and mix well.
The best thing about assembling the bowl is you can make it how you want it. My usual way is to add about 1/2 cup rice to the bottom of the bowl, and in the other half, I add about 1 cup of mixed greens. However, you could do this on all greens or all rice; it's up to you.
Next I drizzle the miso dressing over my greens and rice, anywhere from 1/8 to 1/4 cup of dressing (again, depends on my mood, and if I'm using all greens, all rice, or a mix). Then I begin to add my toppings.
I place 1/4 of the poke on top of my rice. Then, moving around the bowl, I add the other elements – 1/4 of the cucumber salad, 1/2 sliced avocado, a generous heap of pickled ginger (I love adding this over my greens as they taste great together). Finally, I sprinkle a bit of shredded nori in the center of the bowl.
Enjoy! The poke and cucumber salad will keep for about 1 day in the refrigerator, so definitely eat this sooner rather than later.
Gluten free alternative: Use gluten free tamari instead of soy sauce in the poke, and ensure your miso is gluten-free.
Vegetarian & vegan alternatives: Instead of including the poke in the bowl, add edamame to the bowl. Make sure to use vegan sugar in the cucumber salad's dressing if making vegan.