July 27, 2011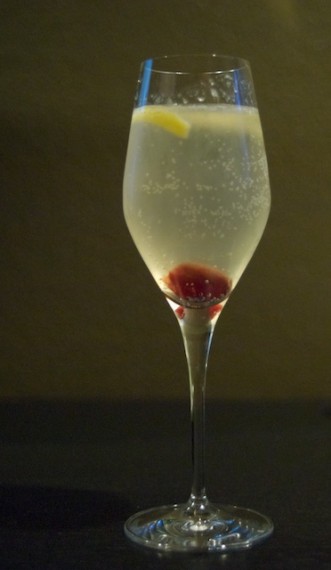 Recipes, or deviations from, must be the theme this week. Earlier this week I posted about a pimento cheese that started off from a friend's recipe, but rapidly developed into its own. Now there's this French 75, which I first saw in The Art of Bar, never made, finally got around to making, and decided I liked it a different way better.
Wait, what? Yes, that was a bit confusing. Let's start from the beginning. When the hubby and I got married, we registered for this cocktail book, and some lovely family friends bought it for us. Whilst flipping through it, I came across a recipe for a French 75, which I'd never heard of before. It called for brandied cherries, which needed to be made separately, so I never got around to making it.
Fast forward a few years, and I was geting adventurous in my cocktail making. I looked up the French 75 on the web, and settled on a version very similar to the book. Only no cherry, and no ice. It quickly became one of my favorite cocktails, and a great way to wind down the day.
This past week, I finally made the cherries, and the first thing I wanted to make was the French 75 exactly as it was in the book. Poured over ice, garnished with a lemon twist and the tasty cherry.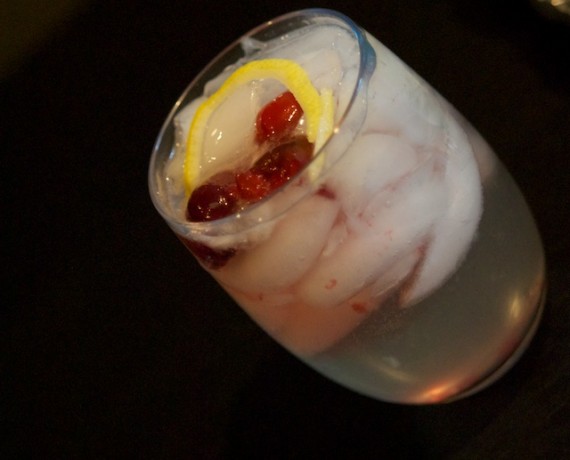 Disappointment. I didn't care for the way the ice watered down my French 75. I did, however, love the burst of color from the cherry, so I decided to remove the ice, go back to a champagne flute, and enjoy the cocktail my way. Yum!
French 75
Combine 1/2 ounce simple syrup, 1/2 ounce lemon juice, and 1 1/2 ounces of Bombay Sapphire gin in a champagne flute. Stir.
Top with champagne and garnish with a lemon twist and a brandied cherry (optional).
Cheers!