May 22, 2011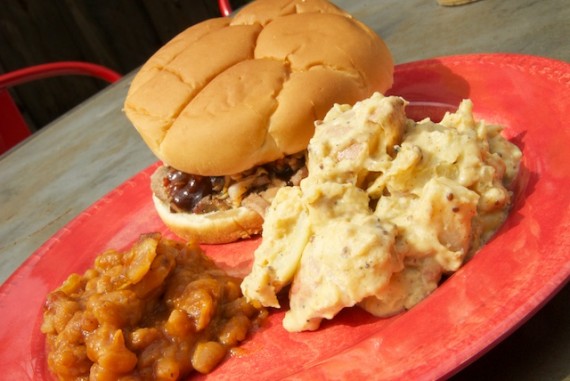 Last weekend we had some beautiful weather, and I thought it would be the perfect time to finally try out the recipe for pork barbecue sandwiches that it took me so long to procure from my dad. While I can't give you that recipe (I've been sworn to secrecy), the sides are pretty darned awesome too. One of my favorites for barbecue is potato salad, but I do mine with a tangy twist. Instead of using mostly mayo as many recipes do, I use mostly mustard, and a good blend of them at that, and throw in a few savory seasonings that make this not your normal potato salad. The result will make your taste buds tingle and beg for more!
Courtney's Tangy Potato Salad
2 pounds new potatoes, halved or quartered
1/2 cup minced onions
1 medium clove garlic, minced
1 1/2 tablespoons light brown sugar
1/4 cup mayonnaise
1/4 cup dijon mustard
1/4 cup Gulden's Spicy Brown mustard
1/8 cup stone ground mustard
1 teaspoon of Tabasco sauce (or, to taste)
1 lemon, juiced
Dash of Worcestershire sauce
Salt and pepper
Place the potatoes in a saucepan and cover with water. Bring the potatoes to a boil and reduce to a simmer. Season the water with salt. Cook the potatoes until fork tender, about 10 -12 minutes.
Meanwhile, stir together all other ingredients thoroughly to make the dressing. Taste, and adjust seasoning with salt, pepper, and tabasco.
Once the potatoes are fork tender, drain, and add to the dressing, tossing to coat. Gently mash some of the potatoes, and leave others whole, to have varied texture. Adjust seasonings one last time and serve warm or chilled.