May 6, 2013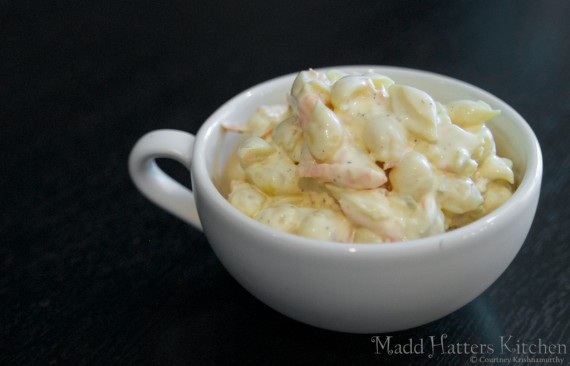 I have zero control when it comes to L&L Barbecue's macaroni salad. I know on a single trip there, I will definitely consume two portions of mac salad, along with the scoop of rice and hefty amount of Kalua pork they serve. As I type, I'm not sure if I'll make it through this post without running out to get an order. Mmmmmm!
I've tried quite a few times, unsuccessfully, to recreate the mac salad since I love it so much. Last week, I think I finally hit the nail on the head. After scouring the interwebs, looking for the divine answer, I stumbled upon a post that noted the secret was the amount of mayonnaise used in the salad. Use a lot. And by a lot, I mean, use more than you think, double that, then put another couple of hefty spoonfuls in. Then maybe just another dab for good measure.
Courtney's Recreated Hawaiian Mac Salad
Makes 3 cups
1 1/2 cups elbow macaroni (do not pay attention to my photo that uses shells, all I had on hand)
1 1/2 cups mayonnaise (+ more if it doesn't look like enough)
1/4 sweet onion, grated
1 carrot, peeled and grated
1 tablespoon sweet relish with juice
1 teaspoon pickled pepperocini juice
1 teaspoon sea salt + more for pasta water
1 teaspoon black pepper
Bring a pot of water to a boil, add salt and elbow macaroni, and cook for the full amount of time called for; you do not want your pasta al dente. In the meantime, mix all the other ingredients together in a bowl. When the pasta is tender, drain, and add pasta to the dressing, stirring to throughly coat every last inch of the elbow noodles. Chill for at least 1 hour and serve.
Optional, maybe more authentic, but more work: Instead of adding the carrot to the dressing mix, add it to the boiling water in the last 30 seconds. This will make it a bit more tender, which it is in the L&L version, though I suspect because it's grated finer than a box grater will allow. Following the above instructions works for me, and isn't that different from the original. But this is mainly because I don't want to get out a colander, meaning one more dish to wash, to ensure I don't send a bunch of carrot down the drain doing my pot lid method for drainage.