July 12, 2012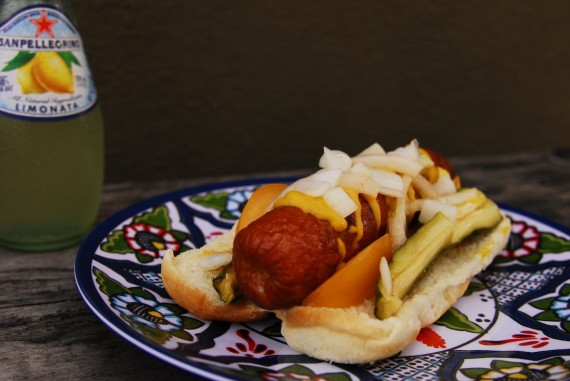 After making my Sriracha pickles, determining I loved them, my next problem was what to do with them. Being a person who hasn't typically eaten pickles, the only thing I've really ever done was peel it off of my Krystal burger and feed it to Milo on road trips. This pickle, however, seemed to need more presence than just slapping it on a hamburger. Then I had the aha! moment. Chicago dogs! They're usually slathered in a plethora of pickles – relish and spears.
I'll say this upfront – my leaping off point was the Chicago dog. This is in no way actually a Chicago dog. Nothing bugs me more than someone bastardizing my hometown favorites, which is basically what I'm going to do here. Apologies in advance.
The Chicago dog is said to be "dragged through the garden" it has so many vegetative toppings on it. There seems to be a few variations, but the idea is relish, pickle spears, tomato, sport peppers, mustard, onions, and celery salt top an all-beef hot dog. Since I had spicy pickles, with a sweet and tangy flavor, I decided I to forgo the sport peppers, figuring I had the pucker and spice covered.
Tomatoes fresh from the garden seemed a must (cut into wedges), as did mustard (French's all the way for me on a hot dog). Since the Sriracha pickles also contained some onions, I considered just using those and those alone. But I love onion (much to my husband's chagrin, especially if he's not eating them with me), so I added a bit of sweet onion, diced, to give a contrast between the pickled onion's flavor and cut. Finally, I decided I might as well top this massive hot dog creation with a bit of celery salt to bring out the flavors of the raw tomatoes and onions.
Now, the more important part – the actual dog. Of course, I had to go all beef hot dog on this one, with natural casing (which I much prefer in all my sausage and frankfurters), grilled over charcoal. I also tried a pork/beef blend, but decided my all-beef instincts were indeed correct. However, I'm still considering experiments with other types of sausage, like Louisiana hot links, might be in order, just to make sure there's not a better option out there (because really, can one ever have too much sausage?). Never being a fan of seeds on my hot dog buns, I opted for the wonderful Wonder Bread hot dog bun as my delivery vehicle for this creation.
As for the creation – what to call it? Given that I stole a lot from the Chicago dog, I feel it should play a part in the name, and given that the Sriracha in the pickle was the other major influence in this… Thaicago Dog? SriraChi Pup? The Windy Rooster?