April 27, 2011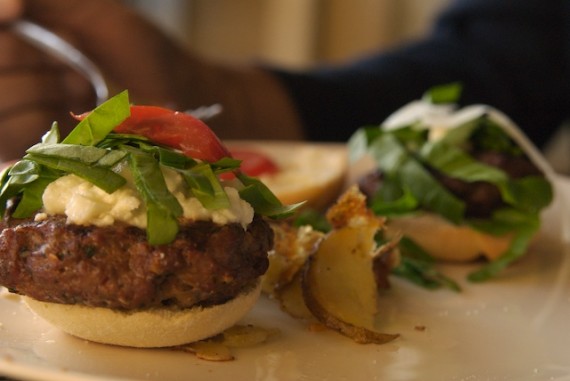 One of the best parts of making the Spicy Cig Kofte is using the leftovers. Usually I buy a leg of lamb, so after portioning out the 3/4 pound I need for the kofte, I easily have a couple of pounds left over. What to do with all that lamb? Make lamb sliders!
This recipe was born from my love of the kofte. I wondered how the spicy mixture would taste grilled. So I altered the spices a bit, made a couple of substitutions given that there are certain ingredients I didn't have left over, and one of my favorite burgers was born (and my husband's favorite burger, and my friend's favorite burger… they're really good!).
I originally made these sliders because I wanted a soft bun, which Whole Foods didn't have, so I made dinner rolls from scratch instead and served them. I liked them as tiny burgers, so they'll stay served as sliders for me, but you could always make a normal-sized burger with this as well.
Lamb Sliders
Makes 8 sliders
2 pounds leg of lamb
1 1/2 tablespoons harissa
1 shallot, finely diced
2 tablespoons shredded mint leaves
2 tablespoons shredded flat leaf parsley
1 teaspoon dried mint
2 teaspoons sweet paprika
1 teaspoon smoky paprika
sea salt
freshly ground white pepper
1 ice cube
8 small white bread buns
Condiments:
Thinly sliced cucumber
Thinly sliced red onion
Sliced tomato
Spinach chiffonade
Harissa (for the heat lovers)
Haloumi and Feta cheeses, crumbled and mixed
Yogurt Sauce ('recipe' below)
Remove any fat from the lamb and reserve. Using a meat grinder with the least coarse plate, grind the lamb meat into a bowl. Add a few chunks of fat to give a bit of fat to the mixture. Combine all other ingredients through the ice cube and mix by hand until all ingredients have thoroughly combined and the meat becomes almost a paste.
Portion out 8 patties, 1/4 pound each. Grill over medium-high heat until the burgers are medium-rare to medium.
Spread a bit of yogurt sauce on each side of the bun, and top with a burger and your favorite condiments. My favorite combination is a bit of cheese, topped with spinach, cucumber, and a few red onions.
Yogurt Sauce
1/3 cup yogurt
Freshly ground black pepper, to taste
Sea salt, to taste
Mix the three ingredients together until combined.
These are great served with fried potatoes, spicy carrots, or a crisp romaine salad. Syrah pairs nicely with the flavors.