September 15, 2010
Steak, baked potato, garlic bread. It was one of the first meals I learned to cook, and throughout middle school, this was often my late lunch. I eventually branched out into chicken, baked potato, and garlic bread, but I hold a special affinity for a bacon-wrapped fillet.
This meal comes together in no time, because there's not much to it. You can grill or broil the steak, the baked potato can be cooked in the microwave, and the garlic bread can either be baked (in which case, it takes the longest of anything to cook) or you can simply broil it quickly at the end.
Want the details?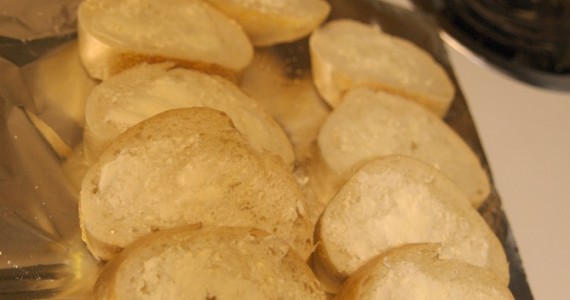 If you're going to bake the garlic bread, it will take about 15 to 20 minutes, so start this first. Preheat your oven to 350 degrees. Slice your baguette, and lay the slices out in order so you can put it all back together in a bit. Butter each slice, and sprinkle with some garlic powder. Get out a sheet of aluminum foil large enough to sit the baguette in, put the loaf back together, and wrap completely. Stick the loaf in the oven and bake for 15 to 20 minutes, until soft on the inside and a bit crunchy on the crust.
If you want to make this meal quite a bit quicker, save the bread for last, butter and garlic as you did above, but lay the slices out under the broiler after pulling the steak out, and keep an eye on them! They'll burn quickly; I'm telling you from much experience.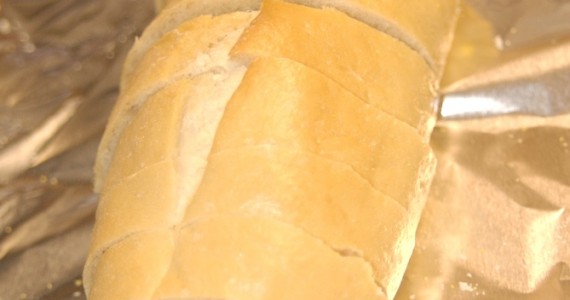 Next up (or first up, if broiling the bread) is the baked potato. Wash and scrub your potato, pat dry. Stick it all over with a fork so it will vent. Rub liberally with sea salt, place on a microwave-safe plate, and stick it into the microwave. The sea salt will help pull out some of the moisture, yielding a better tasting potato.
The amount of time you need to cook the potato will depend on the size of potato and the number of potatoes. For one potato, you're usually looking at 6 to 8 minutes, and 2 potatoes around 8 to 12 minutes. Check them as they cook by squeezing them (using a towel or mitt) to see if they are ready. They'll give a bit when squeezed when they are ready.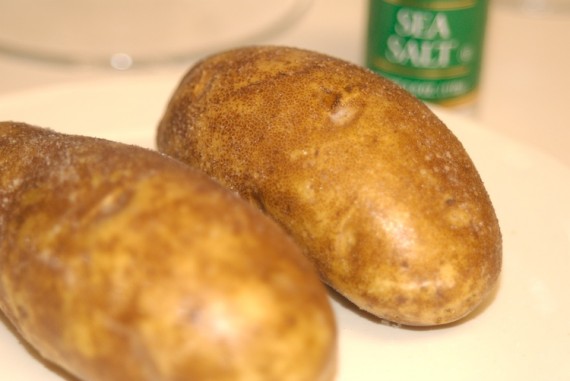 Now for the main attraction, the steak! Back in the day, our butcher would sell packs of bacon-wrapped filets. Nowadays, I usually have to buy the filet and bacon separately and put them together myself. Life is so hard!
Simply wrap the bacon around the filet and secure with a toothpick. I guess it really wasn't that hard afterall.
I have always preferred Paul Prudhomme's Meat Magic as my seasoning for steak. You can usually find it in any grocery store, or, you can make up a batch in advance by using the recipe below. I'm not sure it's exactly like what you buy in the store, but it's pretty close.
Meat Magic
1 TBSP salt
1 TBSP and 1 tsp. Cayenne pepper
1 TBSP Black pepper
2 tsp. White pepper
1 ½ tsp. Garlic powder
1 ½ tsp. Ground cumin
1 ½ tsp. Thyme
1 tsp. Onion powder
Rub the steak liberally on both sides with the seasoning and a little bit of olive oil, and then either grill for 4 to 6 minutes on each side, or broil in the oven for a similar amount of time. Again, time will depend on the size and thickness of your steak. I prefer my medium-rare, so if you want it more done, cook longer.
Plate, butter your potato, and eat!