July 7, 2012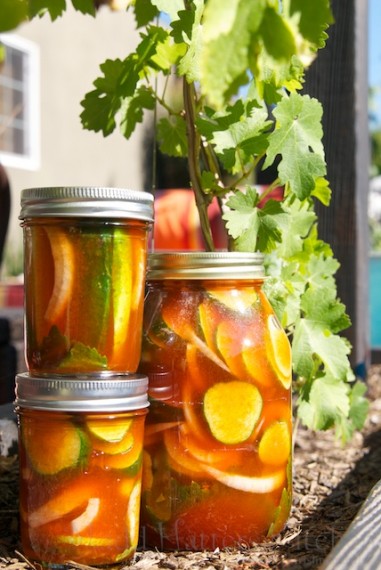 Let's just preface this post by saying I've always hated pickles. Not just disliked, but hated in that "oh my god I'm so grossed out by this thing" way that you can hate a food. In high school someone taunted me by waving a pickle in my direction (of the food variety, let's not let our minds end up in that track!). I immediately, without hesitation, slugged her as hard as I could. Hmmm, anger issues much?
Anyhow, fast forward to the present-day, calm-cool-semi-collected Courtney, who last year in her CSA received a pound of pickling cucumbers. Not one to throw away good food, I decided I would attempt to pickle the things, and at the least I could push them off on my husband and friends. I dug in, searching my favorite sites for pickle recipes, hoping to come across something that didn't include dill. After all, if I'm going to spend the time in the kitchen, I would like to at least try the thing I make. Not being a fan of dill or pickles, I can't imagine bringing such a thing near my tongue.
Then I stumbled upon it – the Sriracha pickle! Sriracha = something I love. Pickle = something I hate. Maybe I'd meet somewhere in the middle, and it would be edible? Possibility loomed on the horizon.
The recipe I found was actually for pickling Swiss chard stems, but that didn't deter me from adapting the idea to a traditional pickle. However, despite the fact that I had embarked upon this new frontier of making pickles, I still couldn't bring myself to actually taste a raw pickling cucumber (I generally like to taste new-to-me raw ingredients just to get an idea of their unadulterated flavor). This year when a friend asked me what the difference in a pickling cucumber and a regular one was, I told her I wasn't sure, so I tried it, raw. Much as I suspected, this cucumber wasn't edible in its natural state – it was starchy, and the worst flavors of the melon flavor a cucumber has were pronounced. I quickly downed a beer to clear the taste from my palate. Blech!!
But let's get back to the original story of making Sriracha pickles. Somewhat trepidaciously I opened the pickles after they had been in my fridge for a couple of weeks. I popped one in my mouth, and oh – my – god!! Tangy, sweet-and-sour, heat-filled flavors danced on my tongue. This was not an "I can tolerate this" moment, but an honest to goodness "I love this and can't stop eating!!!" moment. Indeed, the entire pound+ of pickling cucumbers I had put up were gone that day, served with hot dogs and hamburgers originally, but everyone gave in, grabbed a jar, and just started eating them with a fork at one point. They were demolished. Needless to say, this is going to be in my regular summer rotation moving forward. This year I picked up 3 pounds of pickling cucumbers, and we're trying our best not to crack the jars open until they've sat for a week so we can get the full flavor. One half-pint has already lost the battle; we'll see how the others fare.
Sriracha Pickles
Makes ~80 ounces of jarred pickles
3 lbs. pickling cucumbers, sliced and ends removed (or you can cut into thin spears if preferred)
3 cups distilled white vinegar
5 cups sugar
1/2 cup Sriracha hot sauce
2 teaspoons kosher salt
~1/2 white onion, halved and sliced (sweet onions such as Vidalia or Wala Wala preferred)
Crushed garlic cloves (optional)
Grape leaves (optional, see Note)
Mix the vinegar and sugar together until sugar dissolves. Add Sriracha and kosher salt, and stir to combine.
In each jar, place a grape leaf in the bottom, along with 1/2 to 2 crushed garlic cloves, if using (for half-pints, I used 1/2 crushed garlic clove, for 24-32 ounce jars I used 2 cloves). Add in sliced pickling cucumbers and onions, alternating layers (for every 2 cucumbers I put into the larger jars, I added a layer of onion anywhere from 1/4 to 1 full ring, broken apart). When you get near the top, place the lid on and shake the jar a bit to allow the slices of cucumber to settle, so you can place additional cucumber in. Then pour the Sriracha mixture over the cucumbers, bubbling the mixture with a knife or skewer (bubbling = stick skewer into mixture and move around a bit, to release the air and allow the mixture to settle further). Top off with additional Sriracha mixture if needed, then place the cap on the jar. Store in the refrigerator, and let them sit at least 3 days before devouring.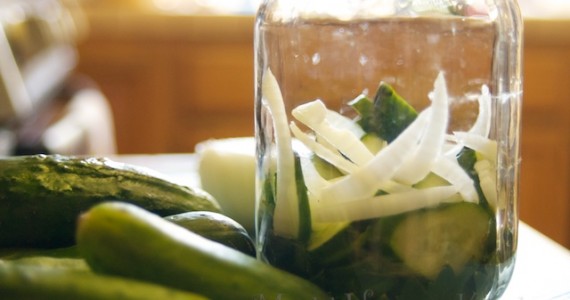 Note: The grape leaves will supposedly help keep the pickles crisp. The tannins in the grape leaf help to inhibit the breakdown of the pectin structure in the cucumber. Since I have plentiful grape leaves on my back porch, I've just done this without question, and my pickles have been crisp. However, I've never done an A/B test to see if they truly help.