September 30, 2013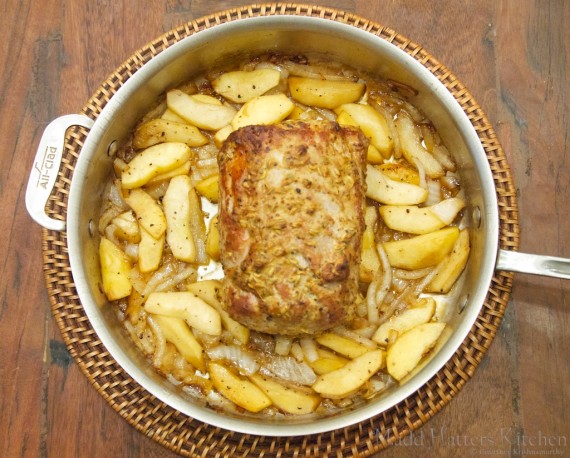 On September 22, the first day of fall, that autumn feeling was in the air, and I completely switched into fall food mode. Even though here in the Bay area we keep swinging between crisper, breezier days and sunny, summer days, when my husband suggested we have something with pork for dinner, I jumped at the chance to make this whole pork loin atop apples. It is so simple I'm not sure why I haven't made it in a few years, but I'm so happy I made a quick stop by the store for the ingredients this weekend. Pork + apples, it's been too long!
This meal comes together easily. While the idea of cooking a pork loin was daunting the first time I undertook it, by the end I wasn't sure why. You simply sear the loin, and while that is happening you can peel and slice the apples and onions. While the pork cools, you can saute the apples and onions. And finally, you smear the pork loin with mustard (which is made even simpler by having a mustard in a squeeze bottle) and crust with fennel seed.
Meat mustarded and apples and onions softened, you sit the meat atop the apples, shove it all in the oven, and wait for the magic temperature of 150 to arrive. While it does, enjoy a nice glass of the chardonnay that you will have with this meal.Testarossa's 2009 Diana's Chardonnay paired well with this, standing up to the sweetness of the apples and the savoriness of the onions & mustard. Not to mention it had a beautiful straw color.
While the pork is resting, set the table and gather everyone to the table. Slice, serve, and enjoy!
Pork loin with apples and onions
adapted from Epicurious
Serves 4
1 large pork tenderloin (about 1 to 1.5 pounds)
2 tablespoons olive oil
2 tablespoons whole grain Dijon mustard
2 teaspoons fennel seeds
1 medium onion, sliced
4 medium apples, peeled, cored, sliced 1/4 inch thick
1/2 cup dry white wine or apple cider
Preheat oven to 450 degrees. Season pork with salt and pepper.
Heat 2 tablespoons oil in large nonstick ovenproof skillet over medium-high heat. Add pork and sear until all sides are brown, turning occasionally, about 5 minutes. Transfer pork to plate. Cool slightly. Spread mustard over top and sides of pork; press fennel seeds into mustard. Leave about 1 tablespoon oil to skillet. Add onion slices and apples; saute over medium heat until golden, about 5 minutes. Spread evenly in skillet and sprinkle with salt and pepper. Place pork atop apple-onion mixture.
Transfer skillet to oven and roast until apple-onion mixture is soft and brown and meat thermometer inserted into center of pork registers 150 degrees farenheit, about 20 minutes. Transfer pork to platter and tent with foil. Let stand 5 minutes.
Meanwhile, pour white wine or cider over apple-onion mixture in skillet. Stir mixture over high heat until slightly reduced, about 2 minutes. Cut pork on diagonal into 1/2-inch-thick slices. Spoon apple-onion mixture onto plates. Top with pork and serve.