October 13, 2013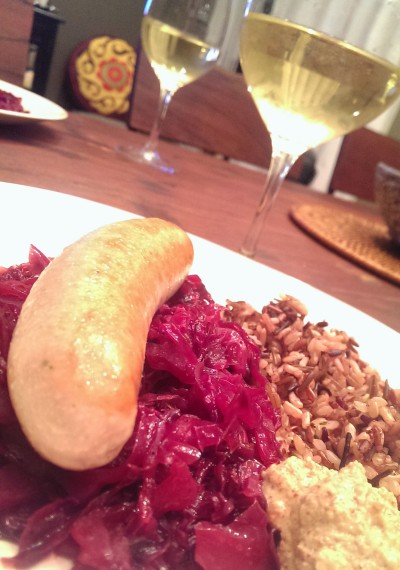 It always seems around this time of year I get a strong craving for Germanic foods. Cabbage, rich sausages, tart wines, sweet, sweet lager. While Oktoberfest is primarily celebrated in September in Germany, October is the perfect timing in California to start enjoying all of these treats. The weather cools down where mornings and evenings actually feel like crisp, fall days, and even the mid-day is a bit cooler. Last week I fed my craving first at our local Austrian restaurant, Naschmarkt, with kraut rouladen, or stuffed cabbage rolls. The next day when I strolled through the produce section of my local market, I saw the most beautiful heads of red cabbage – small, perfect, compact leaves, in a brilliant purple-ish-red – and I knew my craving hadn't quite went away yet.
Luckily, at home I happened to have a package of bockwurst, so in the sausage department I was set. For the red cabbage, I wanted to try to recreate a sweet and sour version of red cabbage I had at Naschmarkt many moons ago, but I also wanted to add in my favorite accompaniment to cabbage – apples. After perusing many a recipe online, I came up with a true mish-mash of ideas that yielded a cabbage with a hint of sour, and surprisingly only a hint of sweet given the apples and sugar I added. The mild bockwurst let this cabbage shine, providing a bit of fattiness needed to tame the pucker it provides, but not so much that it overshadows this side.
While a grüner veltliner is the perfect match for this dish, I decided to open my last bottle of Limerick Lane's 2010 Cuvee Blanc, which has the same tartness that the grüner veltliner does, but has a distinctive taste of green apple that you can't miss. I'm hoping that sooner rather than later they release another bottling of this wine. Its slight acidity pairs well with meals like this, standing up to the tartness of the vinegar and cutting through the richness of the meats.
Sweet and sour red cabbage
Serves 4 to 6
3/4 stick butter
4 slices of a half onion, diced
3 apples, peeled, cored, and thinly sliced
1 tablespoon caraway seed
1 2 pound red cabbage, thinly sliced
8 tablespoons sugar
1 cup red wine vinegar
Salt and pepper
Melt the butter in a large pot over medium heat. Add the onions, apples, and caraway seed and saute for 3 to 4 minutes, until they just begin to soften. Add cabbage and saute until slightly wilted, about 5 minutes. Add sugar and vinegar, and season with salt and pepper. Reduce heat to medium-low and cover. Simmer until cabbage is tender, stirring often, about 30 minutes. Season to taste with salt and pepper.