October 26, 2010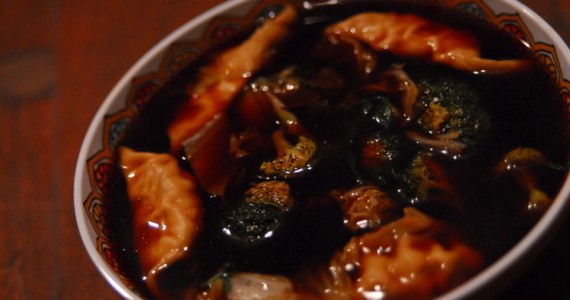 It's been a while since I posted a recipe that uses the vegetable stock that is so easy to make. This is one of those recipes that I throw together when I'm really not in the mood to do anything, and it's a great way to use up leftover vegetables you have in the refrigerator. The basics are vegetable stock, soy sauce, and frozen Chinese dumplings, and you can build on the soup from there.
Start with enough vegetable stock for your soup. For me and my husband, I used a 4 cup frozen cube, which I melted while pulling out everything else I wanted to throw in. As the vegetable stock started to melt in the saucepan, I added about 1 1/2 tablespoons of soy sauce (a blend of dark and normal soy sauces, but you can use whatever you like), as well as a star anise and a bit of pepper. As that melted down and started to come to a simmer, I raided my refrigerator to see what I would be adding this evening besides frozen dumplings from Trader Joe's.
Some ideas: mushrooms (if dried, soak them first), cabbage, greens, scallions, onion, broccoli, broccolini. This night I used some left over napa cabbage, broccoli, scallions, and chrysanthemum leaves. I tossed the broccoli in first, and let that cook for a few minutes before adding the dumplings, which according to the package instructions, only needs to cook for 2 to 3 minutes. So after 2 minutes, I tossed in the cabbage, and at the last minute, tossed in the greens. And it was done! I poured it into a bowl, and my husband and I were slurping away, warming up on a cool fall evening.