September 19, 2010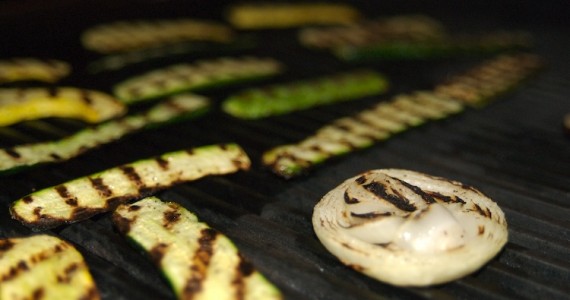 Attention Campbellites, this post is for you!
Actually, it's for anyone that is experiencing those last warm days of summer that are fading into fall. This sandwich was inspired by products I pick up at my local farmer's market, but if you're not from these parts, you should easily be able to find most products in your local store (and the one secret ingredient online if not locally).
The veggie pita sandwich starts off with veggies – duh! Personally, I like to start with zucchini, summer squash, and onions. You could also try adding some tomatoes or eggplant to the mix. I slice the vegetables, toss them with the Olive Bar's garlic olive oil, a little salt, a bit of fresh ground pepper, and lay them out on the grill. I usually keep the onions separate from the bowl so they stay in thick slices and don't fall apart.
The other thing I like to have on this sandwich are some roasted red peppers. So place a couple of those on the grill as well.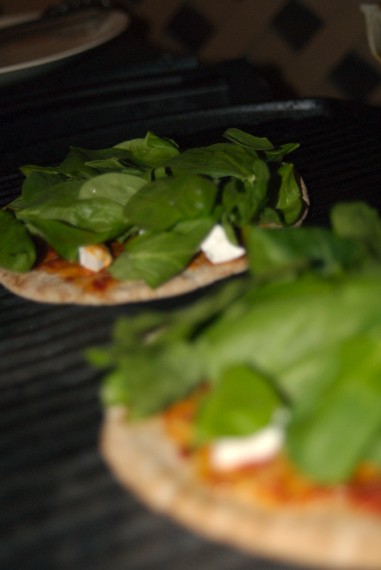 Once my veggies are cooked with some pretty grill marks, I move onto working with the pita. I pick up pitas and harissa from the middle-eastern stall in the prepared food section. Their harissa is spicy, so adjust your slathering of the condiment based on your ability to handle hot foods (Fear not, I've included a link to another harissa I really like if you can't find it in your area).
Take your pita, and place it on the grill to warm. Once one side is warm, bring it back in, and let's get back to the slathering. I slather grilled side of the pita with the harissa and dot the pita all over with goat cheese (the one ingredient that I haven't seen in the farmer's market, but I always seem to have some on hand). I top with baby spinach, and put this back on the grill to melt the goat cheese and wilt the spinach.
Remove from the grill once this happens, and load up your sandwich with a mixture of those grilled veggies and roasted peppers. Serve immediately!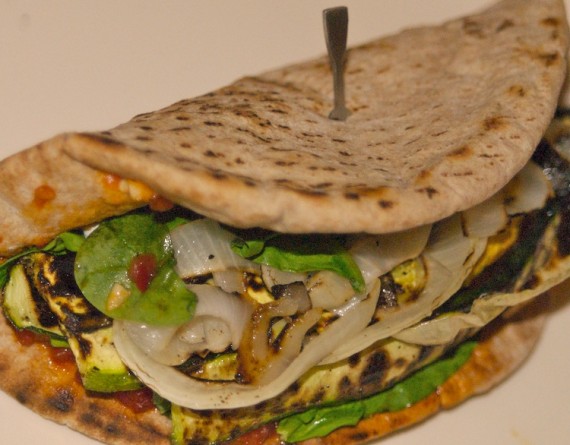 Courtney's Veggie Pitas
Serves 4
5 to 7 summer squash and/or zucchini, sliced lengthwise
1 onion, sliced, rings kept together
1 roasted red pepper, cut into strips
Garlic-flavored olive oil, for drizzling (or, you can use regular and add 3 to 4 cloves of crushed garlic to a 1/4 cup and let sit for 10 – 15 minutes)
4 pitas
4 oz. goat cheese
4 handfuls of baby spinach
Harissa (I really like Mustapha's Moroccan Harissa, though it's not as spicy as what you get at Campbell Farmer's Market)
Salt and pepper
Toss the zucchini and squash in a bowl with a drizzle of the garlic olive oil, salt, and pepper. Drizzle olive oil over the onion slices, and sprinkle with salt and pepper.
Lay the vegetables on the grill. Grill both sides until the vegetables have pretty grill marks and veggies are soft. If you want your roasted red pepper to be warm, toss this on in a aluminum foil pan to warm up (I like mine warm). Once cooked, remove vegetables from grill, stack them high on a plate, and tent with aluminum foil to keep warm.
Spread the 4 pitas out on the grill, and warm. Flip, and spread harissa on the warmed side. Dollop about 1 ounce of goat cheese on each pita and top with a handful of spinach. Grill until the cheese starts to soften and the spinach begins to wilt. Remove and plate.
Pile the vegetables high on each of the sandwiches, and fold the pita in half. To keep the pita folded in half for presentation's sake, use a cocktail toothpick to hold the sides together (see picture above). Serve immediately while warm.